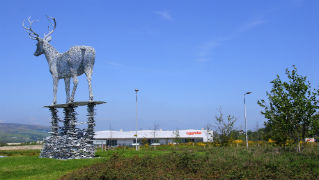 Building a better economy and creating jobs.
Within this priority area we are placing a focus on regeneration, supporting business formation and growth and the development of the tourism industry in the area.
Investment in key infrastructure, the regeneration of former industrial land and the provision of additional housing is critical to job creation and sustainability of the local economy.  Underpinning this activity is the need to support our citizens to be active in their local communities and participate, where they are able, in the labour market.  We are delivering this agenda through significant investment in regeneration and housing projects.  We are also delivering a range of preventative initiatives, which key partners are involved with, alongside the Council's integrated Working 4 U service which delivers on work, learning and money advice support.  View the DIG Action Plans and latest progress reports for more details.