Provost's Civic Awards 2016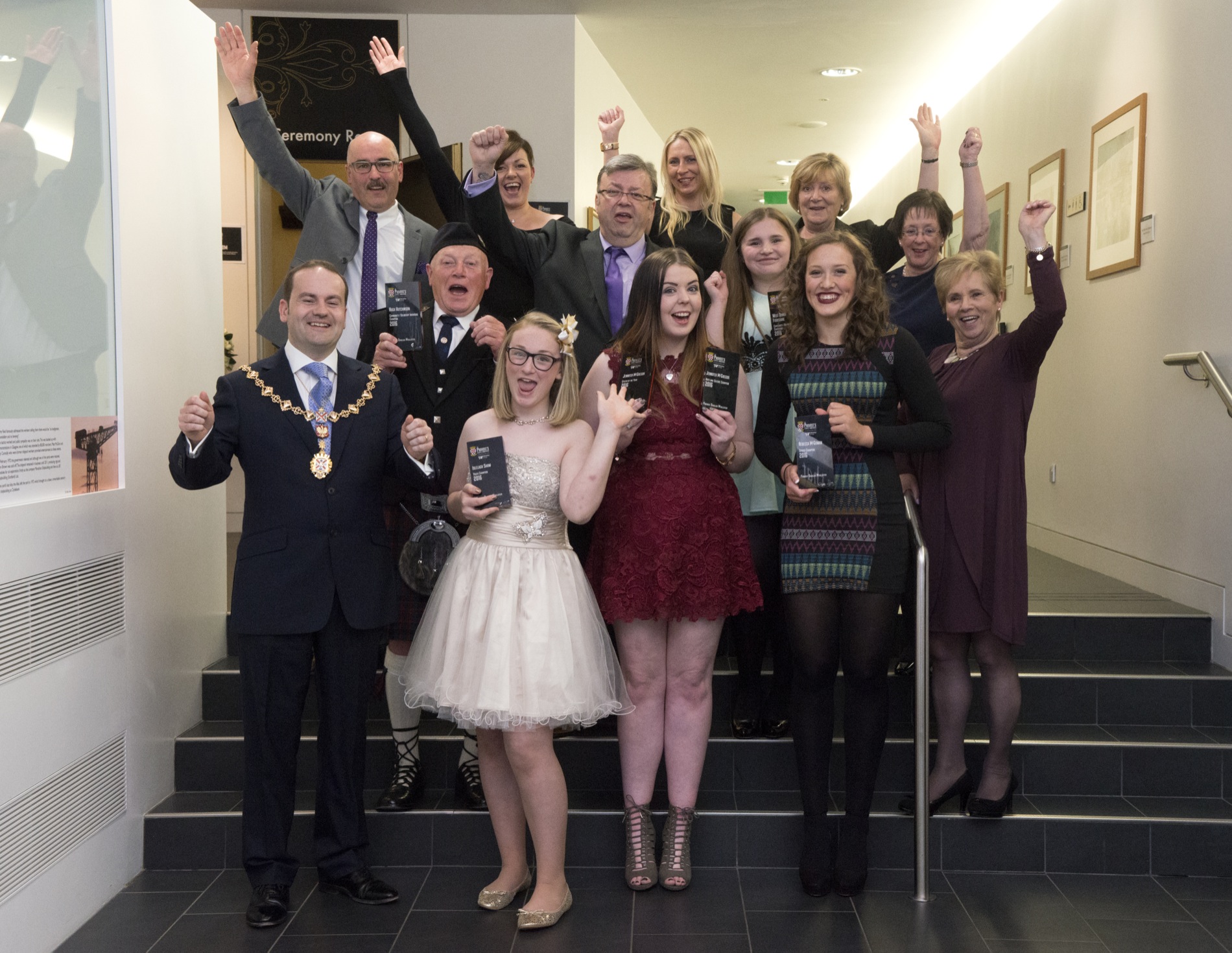 The 2016 Provost's Civic Awards took place at Clydebank Town Hall on Friday 22 April and saw commendations and winners revealed from across the area recognising their efforts in community work, sport, arts and culture.  The 2016 Citizen of the Year was announced as Jennifer McGregor from Dalmuir, who has started her own clothing line and online blog for those that require adapted clothing due to illness.   The annual awards, in partnership with Wheatley Group, celebrate local people who make a significant contribution to improving the local area and the lives of people who live here. The full list of finalists and winners is listed below.
Provost Douglas McAllister said "Myself and the judging panel had a really tough job deciding on our Provost's Civic Awards finalists and winners this year. The awards celebrate residents who make a significant contribution to improving West Dunbartonshire and the lives of people who live here, so it was so heartening to see a fantastic number of nominations come in. I was simply astounded by the achievements and dedication of our final 10 individuals and three local groups who were shortlisted, and I hope the Provost's Civic Awards served as a small token of appreciation for all that they do."
If you have any queries relating to the Awards please contact diane.firth@west-dunbarton.gov.uk
Youth Champion, sponsored by West College Scotland:
Islelagh Shaw, from Dumbarton, who has raised more than £2,000 for the charity Kidney Kids Scotland despite suffering from Kidney disease herself.
Community/Voluntary Individual Champion, sponsored by CCG:
First Commendation:  David Lennie, from Clydebank, who has been donating blood for more than 40 years and recently made his 125th donation.
Second Commendation:  Sarah Cheesman, from Alexandria, who set up a toy bank this past Christmas in an effort to make sure every child in West Dunbartonshire gets a gift
Community/Voluntary Individual Champion 2016:  Hugh Hutchinson, of Clydebank, a dedicated Boys' Brigade volunteer for 50 years
Community/Voluntary Team Champions, sponsored by Morgan Sindall:
First Commendation:  Women Making History in West Dunbartonshire, whose volunteers have worked with local people to produce a 'memory box' and other educational resources about life in the 1950s and 60s that are free for community groups to use.
Second Commendation Dalreoch Day Care Bench-walking Group, from Dumbarton, whose six members raised more than £1,000 for military charity Walking With The Wounded with a sponsored walk ‒ despite being aged 469 altogether and all having mobility problems
Community/Voluntary Team Champions 2016:  West Dunbartonshire Community Foodshare, volunteers from which have helped feed more than 5,000 people through over 12,500 food parcels since it was established.
Arts and Culture Champion, sponsored by St Margaret of Scotland Hospice:
First Commendation:  Caitlyn Bannatyne, from Dumbarton, a keen creative writer with #FreshCreations who was one of only 10 young people in Scotland selected for the Scottish Book Trust's mentor training programme
Second Commendation:  Rachelle Rhienne, from Balloch, whose song writing and performance talent saw her impress record label execs from Sony and Universal and win the prestigious Future Music competition.
Arts and Culture Champion 2016:  Jennifer McGregor, from Dalmuir, who successfully established a clothing line and blog specifically for people with a disability or condition that requires clothing to be adapted
Sport Champion,  sponsored by Clyde Shopping Centre:
First Commendation:  Iain Allen, from Dumbarton, who in 2015 was selected for the Scotland Rugby League Club XIII
Second Commendation:  Jason Methven, of Clydebank, who founded disability football team the Fortune Flyers in 2013 and has since guided them to numerous titles, including Scottish Disability Sports National Champions 2015
Sport Champion:  Rebecca McGowan, from Dumbarton, who was selected as one of just three youngsters for the GB Taekwondo junior squad for 2015.
Citizen of the Year 2016, sponsored by Wheatley Group:  Jennifer McGregor