Published 10 August 2017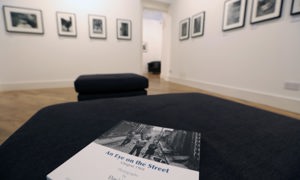 An exhibition featuring the work of award-winning cameraman and documentary film maker David Peat is being held at Clydebank Museum and Art Gallery.
Entitled An Eye On The Street, the exhibition runs at the Clydebank venue from Friday, August 11 to Saturday, October 21 and includes incredible images captured by David Peat across his stellar 40-year career.
In photographs taken of Glasgow communities in 1968, David creates a time capsule providing social commentary on an area being cleared of slums, representing a way of life that was diminishing through the razing of buildings and streets.
David's international photographs were taken over a period of 40 years, sometimes incorporated into his working schedule as a director and cameraman, but more often during holidays when he would take a few hours to seek out the perfect shot.
These evocative photographs illustrate David`s rare talent for framing a shot and his real passion for humanity. He has captured moments in time, sympathetically and yet realistically observing them with warmth, empathy and integrity.
Bailie Denis Agnew, the Council's Convener of Communications, Museums & Cultural Development, said: "David Peat very clearly had an unrivalled eye for the perfect photograph and his skills are displayed brilliantly in these images. I am very proud to have this exhibition coming to Clydebank and I would encourage anyone with an interest in photography to come along and see at first-hand David's deeply perceptive work."
David Peat died in 2012 at the age of 65 and his work has been the focus of many acclaimed exhibitions.
An Eye On The Street is open from Monday to Saturday between 10am and 4.30pm at Clydebank Museum and Art Gallery, Clydebank Town Hall, 5 Hall Street, Clydebank, G81 1UB. It opens on Friday, August 11 and entry is free.