Published 01 September 2017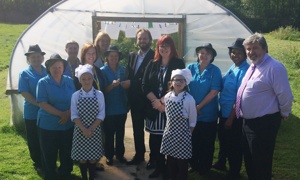 Catering staff at Linnvale Primary School are celebrating after winning a top award for serving up delicious and nutritious school meals.
The team were crowned Scottish Catering Team of the Year at a special ceremony which recognises excellence, commitment and professionalism by catering staff throughout all Scotland's Local Authorities.   
The team impressed judges at the ASSIST Facilities Management  event with their commitment to providing quality food which meets strict criteria on nutrition, cost, portion size and catering for a large range of dietary requirements.
ASSIST Facilities Management's objective is to help promote and improve service delivery to public sector organisations throughout Scotland and to provide support to officers involved in delivery of services.
Chair of ASSIST, Alistair McIntyre, said: "I would like to congratulate Linnvale Primary on winning School Catering Team of the Year which is a fantastic achievement.  They demonstrated they are innovative, caring and passionate about providing for the needs of the local community.  They were also praised for their level of innovation on a number of projects, including their community collaboration and the five week outreach program for young people teaching them how to cook.
He added: "They are a great example of how school catering can be a big part of their local area and are excellent ambassadors for the work we do."
Linnvale School Catering Manager, Evelyn Bryce, said: "We are delighted to receive this award which is testament to the hard work and commitment of our dedicated team. Our common goal is to provide children with good quality food and there's no better compliment than seeing the children enjoying their food."
She added: "We love working with the children and it's important to involve them in preparing and serving the food for them and their fellow pupils to enjoy. The skills we teach the children in the kitchen can be shared at home with their family."
Linnvale Head Teacher, Lindsay Thomas, said: "This is an amazing achievement and we are so proud of our catering team. This award is very well deserved and it recognises the culinary skills our pupils benefit from when they participate in the preparation and serving the food at lunchtime. "
Councillor Karen Conaghan, Convener of Educational Services added: "As a Council we are committed to improving the lives of all of our young people, and we know how important the provision of healthy, tasty and nutritious meals is to achieving that. The team's win reinforces our commitment and shows just how dedicated our hard-working catering staff are. I want to congratulate them on this great achievement."
Councillor Iain McLaren, Convener of Infrastructure, Regeneration and Economic Development, said: "This is great news and I'd like to congratulate everyone in the team who works so hard throughout the year to provide nutritious meals for the pupils at Linnvale.  This award endorses the innovative and proactive approach to engage with the pupils and deliver healthy food with the support of the children."