Published 08 August 2017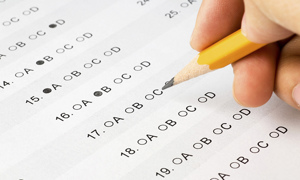 Attainment in this year's exams has increased for another year with 98% of S4, S5 and S6 students achieving one or more National, Higher or Advanced Higher awards.
The pass rate follows a year of hard work by pupils and staff across the area's six secondary schools.
The results, published today, show that performance in literacy and numeracy also improved, with 100% of pupils at National 2, 99% of learners at National 3 and 97% of students at National 4 attaining these qualifications. At National 5 and Higher, this is an improving picture too, with 79% of pupils achieving National 5 qualifications in literacy and numeracy, and 77% doing so at Higher level.
The results have also demonstrated that sustained efforts to close the attainment gap between pupils from the most and least deprived backgrounds are paying off, with increased numbers of pupils from these areas gaining qualifications this year.
Performance in National qualifications, introduced in 2014 to replace Standard Grades, has also improved or been maintained, with 99% of pupils across National 2 to National 5 achieving a qualification. Over 98% of students who sat a National 4 exam and 88% of pupils who sat a National 5 exam passed. Performance at National 4 has surpassed the national average for the last two years.
A record 81% of Advanced Higher pupils achieved a pass and the figure for those passing Highers was 85%.
Councillor Karen Conaghan, Convener of Educational Services, said: "The fact that so many of our pupils have achieved one or more qualifications in this year's exams is fantastic. We are committed to ensuring all of our pupils leave our schools with the skills, experience and qualifications they need to succeed in future. These results go a long way towards that and are testament to the hard work of our pupils, the support of their parents and carers and the commitment of our education staff."   
Councillor Caroline McAllister, Vice Convener of Educational Services, added: "We are committed to raising attainment at every level and are particularly focused on closing the attainment gap and ensuring all of our pupils have equal opportunity to achieve. One of the most important elements of that is the literacy and numeracy, and I'm delighted to see really strong results in that area. This is a big day for our pupils and I want to congratulate all of them on their results and achievements this year."
Laura Mason, Chief Education Officer, said: "As a Council we're delighted that so many of our young people are gaining qualifications and receiving this recognition for their hard work. These results are also testimony to our dedicated teaching staff who continue to motivate our students. Over the last five years we have made steady progress in raising attainment across West Dunbartonshire and we are all committed to maintaining that focus going forward and ensuring that all of our young people reach their potential. We are particularly pleased that we are steadily closing the attainment gap between the most and least disadvantaged young people."