Published 20 July 2017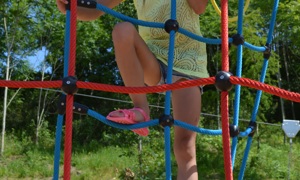 Families are flocking to the Council's brand new £140,000 play park in New Bonhill – with grown-ups and youngsters alike giving the facility the thumbs up.
The play park – on a site adjacent to Ladyton Shops – recently opened in time for the summer holidays and it is proving extremely popular. It is one of a string of such facilities built as part of a £3.2million investment in play parks across West Dunbartonshire.
Similar parks have opened this year in Christie Park, St Helena Crescent, Dumbarton Common, Overburn, Tullichewan, Haldane and Goldenhill Park.
Bonhill resident Catriona Chambers and her husband Harry visited New Bonhill's play park with their grandchildren Roderick Stewart (age 5) and Murrin Stewart (age 2). Catriona said: "It's brilliant. It's got lots for the children to play on and it's also got nice seats for us to relax on, which makes a big difference."
Anne Dinning from Redburn says she has been at the park almost every day since it opened with her 7-year-old daughter Ellie McCormack. Anne said: "I'm up here all the time. And when the weather's nice like this, you have to make the most of it."
And Kirsty Connolly from Redburn says her 4-year-old son Cal-el Gaffney can't get enough of the play park. She said: "It's always really busy up here. We come down quite a lot and I think it's important that the Council spends money on things like this for children. Cal-el loves it."
The New Bonhill play park includes a zip slide, climbing frame, swings, slides and apparatus for toddlers, as well as apparatus for youngsters with disabilities.
Iain McLaren, the Council's Convener of Infrastructure, Regeneration and Economic Development, said: "We are proud to be investing so much in facilities like this, which are vital for the physical and mental health of our children. And to see the New Bonhill play park so busy shows that residents love having places like these in their neighbourhoods."