Published 12 July 2017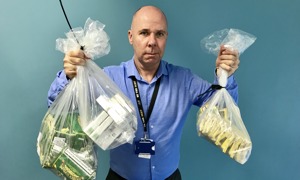 A haul of illicit tobacco worth almost £1200 was seized in Clydebank during a raid by Trading Standards officers.
During an intelligence-led raid, Trading Standards were joined by officers from Police Scotland when they visited the premises in the central Clydebank area. The goods confiscated included boxes of cigarettes as well as loose tobacco, originating from the Ukraine, Spain and Germany.
Following a tip-off, Trading Standards and Police Scotland visited the premises and carried out a thorough search, during which they discovered a significant quantity of tobacco with foreign labelling.
Councillor Ian Dickson, the Council's Convener of Corporate Services, said: "I am pleased to see our Trading Standards team taking robust action against individuals and shops who are selling illicit tobacco. When such products are available on the market, this undermines the legitimate retailers of tobacco and also cheats the exchequer due to tax and duty avoidance."
Tony Cairns, Service Co-ordinator for Trading Standards, added: "As a result of this discovery, a 66-year-old male was issued with a Fixed Penalty Notice for carrying on a tobacco business while unregistered and he is currently under further investigation regarding alleged tobacco labelling offences."
Trading Standards will respond to tip-offs and other intelligence received and anyone involved in the illicit tobacco trade is likely to be caught. The team has powers to enter and inspect premises and can call on the services of a specially trained sniffer dog where items are heavily concealed. Upon conviction, offenders can face fines of up to £20,000 or two years in jail.
Anyone with information on illicit tobacco or associated matters, such as the sale of cigarettes to young people, can register details at the West Dunbartonshire Council website at www.west-dunbarton.gov.uk/tradingstandards or by calling 0141 951 7957. Callers do not need to provide their own personal details if they do not wish to do so.