Published 07 August 2017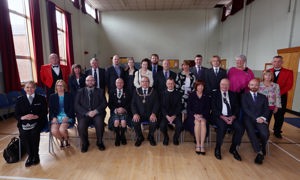 Traditional church services to mark the start of the new term for West Dunbartonshire Council took place on Sunday, August 6.
The Kirkin' o' the Council is a long-held custom to inaugurate a new term for the Council and this year's services were held in Dumbarton's Riverside Parish Church and St Margaret's Church, Clydebank. 
Councillors were joined by Chief Executive Joyce White and senior officers from the Council to welcome Martin Docherty MP, Gil Paterson MSP, Chief Superintendent Hazel Hendren, Deputy Lieutenants Lumsden Mathieson and Owen Sayers and other guests to the church services.
Special readings were delivered by Provost Hendrie at both St Margaret's Church and Dumbarton Riverside, and Councillor Marie McNair also gave a reading to the congregation at St Margaret's Church. 
Provost Hendrie said: "The Kirkin' o' the Council is an important occasion and reaffirms the commitment by our Elected Members to serve the people of West Dunbartonshire.  During the services, we ask for blessings on the work of Elected Members and officials of the Council and it's also an opportunity for the Council to recognise the contribution of our communities."
Depute Provost, Karen Conaghan, added: "This is a very proud day for the Council and its Elected Members and I am delighted to be part of this historic occasion. These services mark our pledge and commitment to work on behalf of the people of West Dunbartonshire, which we are all very honoured to do."