Published 03 November 2017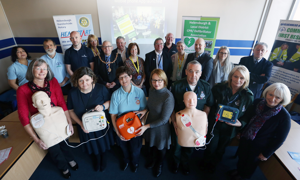 West Dunbartonshire Council has launched a public awareness campaign urging businesses and local organisations to register their defibrillators.
The council launched this campaign to raise awareness after hearing of the inspirational work by Heartstart and the Scottish Ambulance Service (SAS) to highlight the importance of defibrillators in the community.
Councillors joined Paramedic, Brian Martin whose life was saved by one of the life-saving machines, Diane Hodgkinson whose son Craig, 27, died whilst playing rugby and Norma Docherty who lost her son Scott, 17, from SADS (Sudden Arrhythmic Death Syndrome) in 2011.  
The Council is calling on members of the public to support the cause by helping compile a list of all of the defibrillators within public buildings, businesses, organisations and groups across West Dunbartonshire.  A defibrillator can diagnose electrical activity in the heart and where necessary will provide an electrical shock to return the heart to a normal rhythm during a cardiac arrest.
The Council has a number of the potentially life-saving devices on site at buildings and schools across the area, however, the SAS believes there are likely to be others in the area that are not registered. The S Service wants to know where they all are so that, in an emergency, their operators can quickly advise people where to find the nearest machine. 
Trossachs Search and Rescue in partnership with Helensburgh and Local district CPR/ Defibrillator Association and Garelochhead First Responders have mapped over 120 Defibrillators located throughout West Dunbartonshire and the surrounding area.
The location of your nearest defibrillator can be found on an APP which you can add to you mobile phone to access  in an emergency. http://www.trossachsdefibrillator.co.uk
Council Marie McNair, Convener of West Dunbartonshire Health and Social Care Partnership, and mover of a motion to Council on this subject, said: "As a Council we are committed to improving the lives of our residents and I am delighted to launch this campaign and publically support the great work already established by Heartstart, the Scottish Ambulance Service and everyone involved in installing these devices locally. It is vital that members of the public know where these machines are held locally and also trained to use them. I would urge business, organisations and community groups to help build up an accurate register of where these life -saving machines are fitted. The register is being compiled by the Scottish Ambulance Service's R2R (Register to Resuscitate) and so they can direct someone to their nearest machine in the event of an emergency. These machines are saving lives and I would urge people to back this campaign and make sure every machine in West Dunbartonshire is registered."
Sheenah Nelson Heartstart Co-ordinator Helensburgh Garelochside Rotary and Chairman of Helensburgh & Local District CPR/Defibrillator Association has trained 1600 people to use these machines and with partners have installed 112 and saved seven lives. The last two PADs (Publicly Accessible Defibrillators) were generously funded by Dumbarton Rotary Club.
Sheenah said: "We are all committed to saving lives and we would love to see defibrillators in all public buildings, including shops, clubs and groups. We would also like to hear from anyone who would like to have a machine installed in their premises and receive free training. With more than 3,500 people suffering from a cardiac arrest every year in Scotland and only 1 in 20 surviving, these machines can and do save lives. I would encourage everyone to learn how to perform CPR and join the Scottish Government's "Save A Life" campaign and say "I'll Do It. "
The Register to Resuscitation Scheme is backed by British Heart Foundation, which says that cardiac arrest outside of hospital is the most common, life-threatening emergency. Fewer lives would be needlessly lost if more people felt confident using CPR skills and more defibrillators were available in public places.  Registration is easy, can save lives, and can be carried out online at https://pad.scottishambulance.com
The following people are also supporting the campaign in the community. Stuart Ballantyne Trossachs Search & Rescue, First Responder & Heartstart Trainer.   John Webb Garelochhead Rosneath Penisular Community First Responder & Heartstart Trainer. Anne Harrison Scottish Ambulance Service Community Resilience Team Leader.