Published 16 November 2017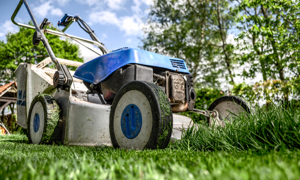 Councillors will consider a revised Care of Gardens Scheme later this month that focuses the Council's resources on those residents who most need support.
Currently the Council provides free garden maintenance to all pensioners in West Dunbartonshire, and to those who are infirm and disabled. In total they receive seven grass cuts between April and November, two hedge cuts and all pathways swept clear and cuttings removed.
At the November 22 meeting of the Infrastructure, Regeneration & Economic Development (IRED) Committee, Councillors will consider a recommendation to change the criteria for free service to be provided only to residents in receipt of a disability benefit such as Personal Independence Payment, Disability Living Allowance, Attendance Allowance or a care service from the Health & Social Care Partnership (HSCP), regardless of their age.
It is also proposed that residents (tenants or owner occupiers) who do not meet the criteria, but are of pensionable age, can still benefit from a subsidised service costing £70 per year with the Council making up the remaining £135 shortfall.
Care of Gardens currently costs taxpayers in West Dunbartonshire around £540,000 to deliver and it is anticipated that, if approved, the new criteria would reduce this by nearly £200,000.
Ronnie Dinnie, the Council's Strategic Lead for Environment & Neighbourhood, said: "The proposed changes to the scheme would allow the Council to continue to provide a free gardening service to the residents of West Dunbartonshire who need it most. To assist pensioners we would be able to continue to deliver a valued service at a heavily subsidised rate of £70 per year. It is now up for Councillors to decide if that is the right course of action to take in West Dunbartonshire."
If approved the proposed changes would reduce the number of qualifying households from 2631 to around 1800.
The proposals will be discussed at the next meeting of the Infrastructure, Regeneration & Economic Development Committee, which starts at 10am on Wednesday, November 22, at Garshake.