Published 23 October 2017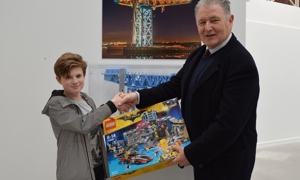 West Dunbartonshire's newest exhibition venue has welcomed more than 7,000 visitors to its first display – the popular Lego® Brick History.
Thousands of visitors viewed the collection of Lego® within the former Bruce Street Baths in Clydebank, which has been transformed into an exciting cultural venue.
The exhibition, which proved a big hit with both kids and adults, generated more than £28,000 in ticket sales and is one of the most popular exhibitions ever staged by the Council.
The family-friendly exhibition created by master modeller Warren Elsmore featured more than 50 major works depicting major historical events such as the end of dinosaurs and the destruction of Pompeii. Feedback from visitors was extremely positive with 96% of those attending rating the experience as good or very good.
West Dunbartonshire Bailie, Denis Agnew, Convener of Communications, Museums and Cultural Development, said: "We're committed to raising West Dunbartonshire's profile in Scotland and staging first-class exhibitions and events which appeal to a broad range of residents and visitors. We have received a great response from visitors to the new venue which has been sympathetically renovated and transformed into a great open space. This was just the first of a number of planned future exhibitions in the Bruce Street Baths."
As well as opportunity to see history recreated in Lego bricks, visitors had the chance to create their own Lego models and enter a competition to identify the master builder. Ten-year-old Balian Armstrong's model of a shark was picked as the overall winner from more than 70 entries and the Parkhead schoolboy received a Lego Super Hero kit worth more than £100 for his efforts.
Balian was thrilled when his shark came out of top and is looking forward to creating more models with his prize.  He said: "I was very happy when I heard I'd won the Super Hero kit.  I really enjoy making things from Lego ® bricks and I was looking at the earth display just before I made the shark.  The boy in front of me had made a plane and I looked at the grey wing and I could see the fin of a shark.  I have never won anything before so I am delighted my design stood out from the others."
Warren Elsmore, author and artist in Lego® bricks and creator of Brick History, said: "I am delighted that Brick History proved so popular. The Baths are a great venue, blending the historic and the modern to create a unique space. It was a tough job picking just one winner as the standard of entries was very high, but for me, Balian's model stood out. I hope he has great fun building new models with his Lego® kit ."