Published 18 October 2017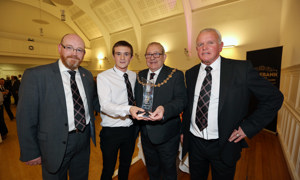 Provost William Hendrie paid tribute to the recent success of Clydebank Football Club at a Civic Reception held at Clydebank Town Hall.
In honour of the Bankies' return to the top flight of Scottish Junior football ─ the Super Premier Division ─ and the Clydebank under 19 team winning the Scottish Cup in May with a 3-1 win over old foes Airdrie United, the Provost welcomed club officials and players to the Town Hall to toast their recent successes.
Provost Hendrie also paid tribute to the recent launching of the Bankies Academy and reserved special praise for former Clydebank Chairman Gordon Robertson for his years of service to the football club.
Provost Hendrie said: "As a Clydebank man and Provost of West Dunbartonshire, the recent success of the Bankies has been a source of great pride for myself and, no doubt, also for the people of the town.
"It's true that Clydebank is, like most Scottish towns, football daft and it's a town that absolutely deserves a successful football club on its doorstep.
"Clydebank FC's recent success has seen the first team return to the top flight of Scottish Junior football. When the resurrected Clydebank emerged as a Junior club in 2003, the aim was certainly to be playing at the top table of the Junior game. And it's wonderful that Clydebank is once again in the top division.
"Also of great pride to the club and the town is last year's Under 19 team winning the Scottish Cup for the first time. As if that wasn't reason enough to celebrate, the 3-1 win in the final in May came against Airdrie United ─ a very sweet moment considering the history between the two clubs."
On the Bankies Academy, Provost Hendrie added: "The launch of the Bankies Academy has been the first big step towards realising the club's ambition to become the very best in the area. Having five different age groups playing under the Clydebank FC banner can only be a positive thing for local youngsters and for the future of the football club as a whole."
And paying tribute to Gordon Robertson, the Provost said: "Mr Robertson was, for many years, the Chairman of Clydebank FC and also served as a coach and stand-in first team manager. Working with legendary manager Budgie McGhee, Mr Robertson helped the team reach great heights over the years. And his work behind the scenes, as Chairman, was vital to the continuing progress on and off the pitch.
"I would like to pass my thanks to Mr Robertson for his years of service and to wish him all the best in his new role with Kilbirnie Ladeside FC ─ apart from when his new team come up against the Bankies, of course."