Published 27 October 2017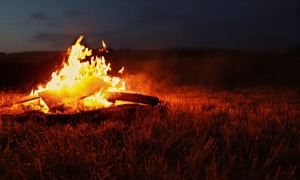 Residents are being urged to report stockpiles of wood or material that could be used to start illegal bonfires ahead of this year's Guy Fawkes Night.
Officers from the Council's Greenspace teams will be patrolling communities in the run up to Sunday, November 5, and removing any items being built up to start bonfires. They're asking residents to support them by reporting any stockpiles they see to ensure they are safely removed.
Last year, the Council's Greenspace team responded to 20 calls from residents reporting material being collected that could be used as a bonfire.
Councillor Iain McLaren, Convener of Infrastructure, Regeneration and Economic Development, said: "This is an exceptionally busy period for our fire services and I would ask residents to do everything they can to keep themselves safe this bonfire night. We must ensure we don't call on their resources for minor incidents that could have been avoided. Every year accidents occur where people are seriously injured, and we want to ensure everyone has a great time but remains safe."
Councillor Diane Docherty, Depute Convener of Infrastructure, Regeneration and Economic Development, added: "The Council is hosting free fireworks events in Dumbarton and Clydebank so there is no need for anyone to start a bonfire. If you see signs that a bonfire is being built, please report it straight away."
Police Scotland Inspector, David Quinn, said: "In conjunction with our partners, we will be proactively tackling the misuse of fireworks and illegal bonfires. Any breaches of the legislation associated with fireworks will be reported to the Procurator Fiscal Service or Scottish Children's Reporter Administration. If anyone has information regarding the illegal use of fireworks or is concerned regarding the construction of a bonfire, please do not hesitate to contact Police on 101 or in case of emergency dial 999."
Last year Scottish Fire and Rescue removed 18 illegal bonfires and handled hundreds of calls in the run up to November 5.
David McCaughey, Scottish Fire and Rescue Service Station Commander, said: "Illegal bonfires are often built in an unsafe way, using dangerous materials and in hazardous locations – making them a serious risk to the public and emergency responders.
"In addition, responding to these needless incidents means firefighters could be delayed in getting to someone facing a real emergency.
"When things go wrong they result in horrific, lifelong injuries. Burns are among the most distressing and painful injuries a person can suffer so we want people to have a great time without inviting trauma and tragedy.
"The official celebrations in both Dumbarton and Clydebank are far more spectacular than any do-it-yourself event and these hugely popular professional displays mean everyone can have a great time without endangering themselves or others.
"We would ask for your co-operation in keeping yourselves and your community's safe by ensuring that you do not allow an accumulation of refuse which could be ignited. Report any instance of anti-social behaviour to the Police and ensure that you take note of our Firework Safety advice."
The advice is as follows:
Attend a local organised display which is held under controlled conditions and is much bigger and better than a "back garden" display. 
Don't go near an "unofficial" display where safety rules are ignored and where fuel for the fire such as drums of oil, could potentially be a deadly hazard.
Keep an eye on your children, by all means let them join in the fun, but don't let them stray too close to the fire or fireworks.
Consider others. People who are elderly, infirm or unwell will not appreciate the unwelcome noise generated by some fireworks.
Local pupil Kerr Gray from Knoxland Primary School won this year's Fireworks Safety Awareness Competition and posters and leaflets bearing the message 'Don't sell fireworks anyone under the age of 18' have been distributed across West Dunbartonshire.
Officers from the Council's Trading Standards department will be visiting premises to ensure shops selling fireworks are storing them correctly within their premises.  Retailers could see test purchases being carried in their shops out if Officers receive complaints from the public of fireworks being sold to people under 18 years old.
This year's Council-run displays will be held on Saturday, 4 November, at Levengrove Park in Dumbarton and on Sunday, 5 November at Clydebank's Dalmuir Park with both events starting at 7pm.
Residents can report a build-up of material on the run up to Guy Fawkes to the Council's Greenspace team on 01389 772059 during office hours or Out of Hours on 0800 197 1004 and Anti-Social Behaviour to the hotline during office hours on 01389 772048. Residents can also contact Police Scotland on 101 or 999 in case of emergency.