Published 09 October 2017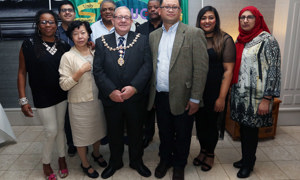 Provost William Hendrie hosted a Civic reception for delegates of the 21st annual Scottish Trades Union Congress (STUC) Black Workers' Conference.
The conference ─ which this year featured the theme 'Educate, Agitate, Organise' ─ was held at the Golden Jubilee Conference Hotel in Clydebank at the weekend, the first time it has ever taken place in West Dunbartonshire.
The 12-member Black Workers' Committee is selected at the annual Black Workers' Conference.  The motion-based Conference helps determine the priorities of the Black Workers' Committee for the year ahead.
Provost Hendrie said: "The work that the Black Workers' Committee carries out on tackling racial discrimination and promoting race equality is most vital ─ and all delegates, past and present, can be proud of their efforts over the years. I hope that the Committee continues on that path for as long as it takes to make such discrimination and inequality a thing of the past."
The Committee's liaison with the General Council, and Black Workers' representation through two seats on the General Council, allows for race equality issues to be mainstreamed into the wider work of the STUC.