Published 20 September 2017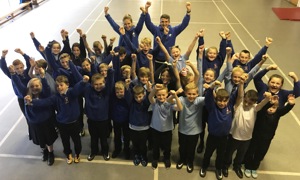 School pupils across West Dunbartonshire took part in a record 101,000 Active Schools sessions in the last year ─ the first time the 100,000 mark has been breached.
New figures released by sportscotland show that the West Dunbartonshire Active Schools programme is performing better than ever, with the 101,000 participant session in the 2016/17 school year, a marked increase on the previous year's 88,000.
The figures also reveal that there were 5700 different pupils in the last year ­- up from 5600 distinct participants the year before - and that each of these pupils took part in an average of 18 sessions throughout the year.
The news was celebrated by pupils at Edinbarnet Primary School this week, where they were joined by West Dunbartonshire Leisure Active Schools Co-ordinators Adam Gibson and Louise Morrison.
West Dunbartonshire Leisure delivers the Active Schools programme across the area, which offers opportunities for school pupils to get involved in sport and physical activity before school, during lunch and after school. The Active Schools Network is delivered by all 32 local authorities in partnership with sportscotland, the national agency for sport.
Councillor Jim Finn, Chairman of West Dunbartonshire Leisure, said: "The figures released by sportscotland are very impressive and they show that West Dunbartonshire is getting it right when it comes to the Active Schools programme. That we have seen more than 100,000 participant sessions in the last year is something we can all be very proud of.
"There were also more distinct participants this year, which means even more children are getting involved in sports and finding new ways to stay fit and healthy."
The figures show that 329 local volunteers are signed up to help deliver the Active Schools programme and that 32 local sports clubs have established links with Active Schools, up from 31 the year before.
The Active Schools programme is in operation at every primary and secondary school in West Dunbartonshire, delivering 6000 separate sessions over the course of the school year.
Councillor Finn added: "It's wonderful to see these great results, knowing how hard the team behind Active Schools in West Dunbartonshire works. I must also pay tribute to our brilliant army of volunteers, without whom the programme simply couldn't be anywhere near as effective."