Published 27 September 2017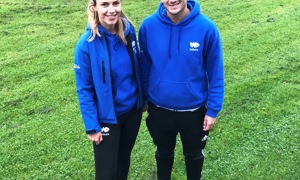 West Dunbartonshire Active Schools is launching a campaign drive to recruit a batch of new volunteers.
In celebration of UK National Fitness Day 2017 (Wednesday, September 27), Active Schools is looking to add to its pool of more than 300 local volunteers to help as many children as possible get active through its wide range of West Dunbartonshire activity programmes.
With the recent news that, for the first time ever, more than 100,000 attendances were recorded at Active Schools sessions in West Dunbartonshire in a single school year, Active Schools wants to ensure even more youngsters can try a variety of sports and physical activities. And to do that, more volunteers are needed to help facilitate Active Schools sessions before school, during lunch and after school.
Every school in West Dunbartonshire offers Active Schools sessions in partnership with sportscotland, the national agency for sport, and parents and grandparents are encouraged to get involved this school year.
West Dunbartonshire Active Schools Co-ordinator Louise Morrison said: "The benefits of physical activity are obvious and we love working with the children to make them more active. But we can't do our job without the help of our volunteers. And while we are fortunate and thankful to have more than 300 volunteers in West Dunbartonshire, we really need even more."
Fellow Co-ordinator, Adam Gibson, added: "A lot of parents and grandparents who volunteer with Active Schools tell us that they get as much benefit out of it as the kids do. They are also being active and they get to spend even more quality time with their children or grandchildren."
Feedback from current volunteers echoes that sentiment. Jacqui McGalpine says volunteering with Active Schools "encourages my son Ben to become more active and meet new people." She adds: "I think it's important to give something back to the community when you can."
Another local volunteer, Pauline Butchart, said: "My children have been fortunate and have experienced many clubs and activities. Without volunteers, this wouldn't have been possible. Seeing the children come along so enthusiastic and full of chat ─ it can make your day."
Volunteers can also learn new transferrable skills such as coaching qualifications and first aid while also boosting their own confidence, as well as that of the children.
Councillor Jim Finn, Chairman of West Dunbartonshire Leisure, said: "Our Active Schools programme is already very successful. But we will never rest on our laurels and we want to reach even more children in the future. For that to happen, we need more volunteers. There is clearly so much that the children can gain and the volunteers also get a lot out of it, so there's really no reason not to give it a try. Our Active Schools team is brilliant and they will find the best role for everyone who wants to volunteer. I would encourage anyone who is interested to get in touch with the team right away and help instil a love of sport and staying fit in our youngsters that will hopefully stay with them for life."