Published 04 September 2017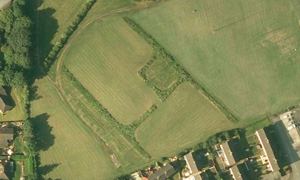 An ambitious project to bring history to life to promote the Antonine Wall and its fascinating past has received initial support from the Heritage Lottery Fund (HLF).
Rediscovering the Antonine Wall will be led by West Dunbartonshire Council in partnership with Glasgow City Council, East Dunbartonshire Council, North Lanarkshire Council, Falkirk Council and Historic Environment Scotland (HES). It aims to engage local communities along the length of the Antonine Wall ─ a World Heritage Site since 2008 ─ to develop proposals for Roman-themed play spaces, replica stone slabs which marked distance points along the route and a community-led video tour of the Wall.
The project aims to increase awareness and understanding of the historic site, including the area of the exposed Wall rampart which lies within Goldenhill Park, Clydebank.
Development funding of £97,000 has been awarded to help West Dunbartonshire Council and its partners progress the plans to allow the group to apply for a full grant next year to implement the project.
Training, local content development and community-led events will underpin the delivery of the full three year project and ensure that what is delivered is unique to each area of the Wall and carefully curated to meet the needs of individual local communities.  A Project Manager has been appointed to deliver the development phase and during 2017-18, Emma McMullen will work with communities and key stakeholders to develop the final designs and briefs for a range of products.
These will include: five new replica distance slabs (similar to that in Bridgeness, Falkirk); new interpretive play spaces that will see themed equipment merged with digital content to create exciting new learning environments; a series of arts/performance events designed and delivered by local communities; and the recruiting of a '21st century Legion' to help promote the Antonine Wall in local areas.
Councillor Ian Dickson, West Dunbartonshire Council's Convener of Corporate Services, said: "The Antonine Wall is a brilliant educational tool to have right on our doorstep and the section of the Wall which is within Goldenhill Park is an important part of the rich heritage we have in West Dunbartonshire. Rediscovering the Antonine Wall is a fantastic project which will fully engage and educate our communities and I look forward to seeing the plans for full funding progress now that the Heritage Lottery Fund has given this initial funding."
Councillor Robert Spears, Falkirk Council's spokesperson for Culture, Leisure and Tourism, said: "The Antonine Wall is an amazing attraction and encouraging visitors to visit this remarkable piece of history is a big ambition for all the partners involved. We are optimistic that we can attract full funding for this project and, if successful, will ensure visitors will fully appreciate and understand the Wall's significance in Scottish history."
Councillor Jim Gibbons, Convener of the Place, Neighbourhood & Corporate Assets Committee at East Dunbartonshire Council, said: "Support from the Heritage Lottery Fund will allow officers to develop this exciting project with local communities. Innovative proposals range from Roman-themed play spaces to a multi-media tour, aimed at bringing history and heritage to life for people of all ages. The Antonine Wall is a key part of East Dunbartonshire's rich history ─ with much to explore locally ─ and I look forward to hearing more about this project as it develops."
Councillor Olivia Carson, Vice Convener of North Lanarkshire Council's Enterprise and Housing Committee, said: "Walking along the Antonine Wall shows clearly the influence of the Romans in Scotland, and this new project will open up even more of the fascinating history of this period. Thanks to the Heritage Lottery Fund, the new educational and play materials will give visitors more of an insight into Roman life here."
The Antonine Wall (www.antoninewall.org) was constructed in the second century AD and is one part of the much larger Frontiers of the Roman Empire World Heritage Site (FREWHS), alongside Hadrian's Wall and the German Limes. Extending 37 miles from Old Kilpatrick (in West Dunbartonshire) in the west to Carriden (in Falkirk) to the east, the Antonine Wall represents the most north-westerly extent of the Roman Empire's general system of defence. Today, visitors can explore traces of ramparts, steep ditches, and the remains of forts and bathhouses – and imagine what life was like for the Romans posted on this remote frontier.
Lucy Casot, Head of the Heritage Lottery Fund in Scotland, said: "Stretching from one side of the country to the other, what was once built as a barrier will bring the communities along its length together to explore and celebrate their shared heritage thanks to funding from the National Lottery.   It's an opportunity to raise the profile of this incredible feat of construction while benefitting communities across five regions of Scotland. We are excited to see the plans develop."
HES World Heritage Co-ordinator Patricia Weeks said: "Working with local communities and partners to enhance and improve the local historic environment across Scotland is a hugely important part of what we do. We're pleased to be collaborating on this exciting project with our five council partners to help both local communities and visitors to the region to rediscover the Antonine Wall."