Published 19 September 2017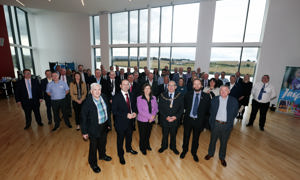 Councillor Iain McLaren officially opened the new Clydebank Leisure Centre in front of an audience of elected members, Council officials and partner organisations.
On Monday (September 18), West Dunbartonshire Council's Convener of Infrastructure, Regeneration & Economic Development unveiled a plaque commemorating the official opening of the £24million facility ─ which was opened to the public earlier this year and has proved extremely popular with local people.
Councillor McLaren said: "This £24million project provides state-of-the-art health and fitness facilities for our residents, and is part of the ongoing redevelopment of the Queen's Quay area.
"I'm pleased to say, that since it opened to the public, use of the leisure centre has exceeded expectations, with people coming from far and wide to try out its wide range of facilities – including children, who love the interactive fitness area and games. When kids are having so much fun, motivating them to keep moving is not a problem.
"Another thing that makes this more than just a leisure centre is its location on the River Clyde. Bankies are fiercely proud of their history, and this building, which sits on the site of the former John Brown's shipyard, takes inspiration from its shipbuilding heritage.
"I am delighted to declare the new Clydebank Leisure Centre officially opened."
The new leisure centre replaced the old Playdrome and is operated by West Dunbartonshire Leisure Trust. It includes three swimming pools, changing facilities, a café, multi-purpose sports hall with badminton, netball, basketball, and five-a-side football courts and retractable seating, fitness suite, and group exercise studio. It also plays host to Scotland's first interactive flume ride.
The entire first floor of the centre is made up of a unique interactive activity zone and fitness area for children. It provides state-of-the-art adaptable facilities for young people to encourage active lifestyles. The very latest technology, including wall and floor projectors, is used to create two large activity areas and two large party rooms.
Councillor Diane Docherty, Vice Convener of Infrastructure, Regeneration & Economic Development, added: "We are very proud of what we have achieved with this wonderful new facility. The health of our residents is a priority for the Council and the investment in this centre shows just how important that is to us. I would like to congratulate and thank everyone who worked so hard over many years to bring this project to fruition."
Iain Marley, CEO of project development partners Hub West Scotland, added: "Hub West Scotland is proud to have delivered this fantastic community facility on the banks of the Clyde through our valued partnership with West Dunbartonshire Council. Located on the site where the QE2 was launched, it is sure to become a future landmark."
The centre sits alongside West College Scotland and the Council's Aurora House offices in what was once the heart of Clydebank's shipbuilding industry on the town's historic Queen's Quay.