Published 20 September 2017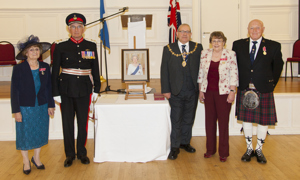 Dedicated residents have been honoured by the Queen and awarded the British Empire Medal (BEM) for their service to the community.
Lord Lieutenant for Dunbartonshire, Michael Gregory OBE presented the medals to the group who were among those listed in the Queen's Birthday Honours list in June. 
Mary Haggarty was awarded for services to the community in Arrochar, Tarbet and Ardlui, Argyll for her role as secretary in Arrochar and Tarbert Community Council. Clydebank man Hugh Hutchinson received his award for services to the Boys' Brigade and the community in Vale of Leven; and retired school crossing patroller, Effie Walker from Helensburgh received her award for services to Education and the community in Helensburgh, Argyll and Bute.
The proud recipients received their honours before family and area officials at a special investiture ceremony at Clydebank Town Hall, followed by a civic reception.
Mary, 74, said: "I am really delighted to receive this prestigious award and to be publically recognised and thanked for something I thoroughly enjoy doing. Over the years I've had great support, not only from my fellow Community Council members but also from residents who appreciate our efforts in helping to keep our area clean, safe and secure for everyone to enjoy. I would like to thank the people who nominated me for this great honour which was so unexpected."  
Hugh, 67, started with the Life Boys when he was eight- years-old and has dedicated the last 60 years to the Boys' Brigade. A life-long sports fan, he is also the President of the Vale Cricket Club where he was the Treasurer for 40 years.  Hugh is keen to get young people interested in the sport and works with the Active Schools team touring primary schools in Alexandria and Dumbarton to encourage youngsters to take up the game.  
Hugh said: "I am thrilled to receive a British Empire Medal for my work with Boys' Brigade and in recognition of my work with the Cricket Club.  I work with many dedicated officers who volunteer their time for the benefit of others. I am proud to hold the position of Captain of the Boy's Brigade and I thoroughly enjoy working with the young people.  The Boy's Brigade is all about providing opportunities for boys to get together in their communities and engage in a range of fun and developmental activities. I am extremely grateful and proud to receive this award and would like to thank everyone who gives up their time to volunteer as this has helped the organisation survive for more than 130 years."
Effie, 81, was also delighted to be recognised with the prestigious award, saying: "I am truly honoured to receive this award and I would like to thank those who took the time to nominate me.  I have had a wonderful, career with great memories of the fantastic children I met during my work.  I loved seeing the children and hearing their stories.  Even on the cold, dark winter mornings when the weather was against us, seeing their excited, happy, smiling faces put a warm glow in my heart."
Provost William Hendrie said: "These residents have contributed a great deal to their communities and are worthy recipients of this award.  This is just a small token of our appreciation for all they have done and continue to do to enhance our area, support our residents and nurture and protect our children."