Published 15 September 2017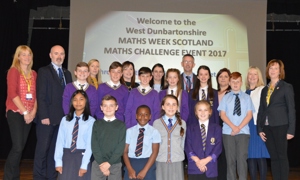 Pupils from across West Dunbartonshire will join children around Scotland by taking part in a series of challenges as part of the first Maths Week Scotland.
Young people will take part in games and   activities to make maths fun and improve numeracy.
Special events will be held in education establishments across the area and 100 pupils will take part in an event at Clydebank Town Hall on Wednesday, 13 September to mark the week- long celebration of maths and get children motivated and excited to learn.
Pupils will take part in a Maths Challenge involve teams of children from primary and secondary schools  from across the authority participating in number-inspired exercises and fun maths activities.  Children have also been invited to enter a maths themed competition which will include younger children designing a poster and senior pupils have to research a famous mathematician and write about their life.
West Dunbartonshire is one of eight authorities within the Maths West Partnership and took part in a recent Numeracy and Maths Conference with educational representatives leading workshops at the event.
Councillor Karen Conaghan, Convener of Educational Services said: "As a Council we are committed to improving the lives of all of our young people, and this event is a fun way to help children inspire a passion for maths whilst promoting the importance of having strong numeracy skills.  This is further supported by our fantastic teachers in West Dunbartonshire who are dedicated to ensuring every child is equipped with the maths skills they need for the future."
 
Councillor Caroline McAllister, Depute Convener of Educational Services, said: "Learning mathematics can be made easier and more enjoyable for children when activities and games are introduced as a teaching method.  Maths is part of everyday life so it's essential our young people are confident when using numbers.  It's also great to see our teachers using fun creative and exciting ways to encourage children to develop good numeracy skills from nursery through to their secondary education."