Exhibition of work by Claire Kennedy
About the Artist
Claire Kennedy is a contemporary painter and mixed media artist living in Glasgow.
After a career in teaching, followed by a period bringing up her young family and experimenting with painting techniques when time allowed, she has now been painting full time for three years and has exhibited in various galleries in Glasgow and the west of Scotland. 
Largely self-taught, she works primarily in acrylics, exploring layered and textured effects and often incorporating an image of black and white photography as a final printed layer. 
'I am drawn to old things, weathered things, often overlooked things, and the colours and patterns which appear there over time. I work with acrylic paints, collage and photography, scratching, scraping and lifting to reveal hidden layers and colours. I enjoy exploring the different textures of paint - brushmarks, glazings and spatters – and pairing this with the starkness of a black and white photographic image. My favourite part of the process isn't the actual painting, it's the taking-off of the paint - I do this between each layer with various implements including an old credit card, a rag, a screwdriver or an old quill pen.
Although I work with a very considered palette, I'm never 100% sure what lies beneath, and it's this element of surprise which I find most exciting and which drives me to paint the next picture.'
Slideshow
A preview of some of the works on display
All work on show is for sale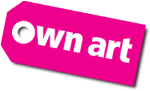 All work on show is for sale and the gallery operates the Own Art Scheme allowing purchasers to spread the cost of buying art over 10 interest free months. 
Where
Clydebank Museum and Art Gallery
Clydebank Town Hall,
5 Hall Street,
Clydebank
G82 1UB
When
Monday  8 May -  Saturday 11 August 2018  
Opening Times:
Monday - Closed
Tuesday - Saturday 10.00 am - 4.30 pm
Facilities
Public Toilets - Yes
Disabled Access - Yes
Cost
FREE Admission