Clydebank Museum opened in 1980 in Clydebank Town Hall. It was originally operated by volunteers drawn from the local communities that had lobbied for its creation. Through the years the museum has developed, becoming part of Clydebank District Libraries and now sitting under the Arts and Heritage Team of West Dunbartonshire Libraries and Cultural Services.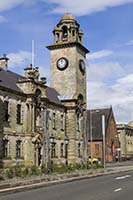 Clydebank Town Hall
Clydebank Museum and Art Gallery
New permanent exhibitions concentrating on Clydebank's proud industrial heritage have been created alongside new high specification temporary galleries, for exciting touring exhibitions as well as housing the Council's permanent exhibition of fine art.
Part of the permanent exhibition includes the large model ships at the entrance and the Singer Sewing Machine collection which was awarded the 'Recognised Collection of National Significance' by Museums Galleries Scotland in 2013.
Clydebank Museum leaflet (PDF 2,868KB).
Opening Times:
Monday-Saturday 10.00 am - 4.30 pm.
Facilities
Public Toilets - Yes
Disabled Access - Yes
Cost
Free Admission
Café
Available 9:30 am until 3:30 pm with a selection of sandwiches, toasties and panini's, along with homemade soup and baking.
---
For School Visits
Please contact the Learning Development Team.
---
Image Gallery of Clydebank Museum
---
Museums are supported and part funded by...
Museums are supported and part funded by...

| | | |
| --- | --- | --- |
| | | |
Oral History Project
Accessing and Exploring Our Heritage
West Dunbartonshire Council's Libraries and Cultural Services have recently secured Heritage Lottery Fund funding to undertake a project that will focus on documenting the industrial heritage of West Dunbartonshire.
The main focus of this project will be collecting and recording new oral histories from people with working life memories of some of the key industries across West Dunbartonshire. As well as including well known organisations such as the Singer Manufacturing Company, John Brown Shipyard, Denny Brothers and United Turkey Red, the team are also interested to hear memories from those who worked for some of the lesser known companies in the area, such as D&J Tullis, Dawson and Downie, Dennystown Forge and Westclox, to name but a few.
The memories and stories that the Heritage Team collect will be used to create an educational resource for schools and the community that will help to ensure future generations continue to learn about, and explore, West Dunbartonshire's amazing industrial heritage.
Funding from the Heritage Lottery Fund has made this Accessing and Exploring Our Heritage project possible. Working in collaboration with West College Scotland, Clydebank Campus, the Libraries and Cultural Services' Heritage Team believe that by collecting and recording these oral history testimonies we will be better able to showcase the huge part that the people of West Dunbartonshire played in making the area a global industrial powerhouse.
The Heritage Team are keen to hear from anyone who would be interested in recording their working life memories and contributing to an invaluable resource documenting the industrial heritage of West Dunbartonshire.
If you would like to take part in this exciting project, and are willing to share your working life experiences with a project interviewer, then the Heritage Team would be delighted to hear from you. Initial contact should be made with Andrew Graham, Collections Officer:
Tel: 01389 772149
Email: andrew.graham2@west-dunbarton.gov.uk