Clydebank Museum celebrates the rich heritage of Clydebank with artefacts, models and items from the collection illustrate the story of the people of the town.
Exhibiting in the museum from January 31st - May 24th 2014
Monday to Saturday 10:00 am - 4:30 pm
Way of the Warrior
Battle dress and props from some of the biggest war movies go on show in a stunning exhibition in Clydebank Museum and Art Gallery.
The Way of the Warrior exhibition is a visually stunning touring exhibition of movie arms and armour used in epic historical blockbuster movies. Way of the Warrior features mannequins dressed in full armour from the Macedonian Hoplites, through Roman and Samurai warriors, to a Second World War soldier and a Delta Force trooper. Each mannequin wears costumes and replica weaponry from Hollywood blockbusters such as Alexander, Kingdom of Heaven, The Last Samurai, Gladiator, King Arthur, The Eagle, Saving Private Ryan, Black Hawk Down and Centurion, illustrating the armour of different cultures and civilisations throughout history.
The Way of the Warrior exhibition is accompanied by detailed information on the weapons, tactics and philosophies of the warriors, and their most famous battlefield encounters. It will offer a truly hands-on experience for all the family, including replica arms and armour that can be handled and worn.
Free Admission
---
The Museum
Clydebank Museum opened in 1980 in Clydebank Town Hall. It was originally operated by volunteers drawn from the local communities that had lobbied for its creation. Through the years the museum has developed, becoming part of Clydebank District Libraries and now sitting under the Arts and Heritage Team of West Dunbartonshire Libraries and Cultural Services.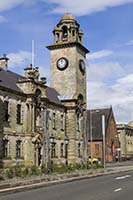 Clydebank Town Hall
Clydebank Museum and Art Gallery
In December 2010, as part of the Town Hall complex, the museum closed as part of the Civic Centre Redevelopment Programme. New permanent exhibitions concentrating on Clydebank's proud industrial heritage have been created alongside new high specification temporary galleries, for exciting touring exhibitions as well as housing the Council's permanent exhibition of fine art.
Part of the permanent exhibition includes the large model ships at the entrance and the Singer Sewing Machine collection which was awarded the 'Recognised Collection of National Significance' by Museums Galleries Scotland in 2013.
Facilities
Public Toilets - Yes
Disabled Access - Yes
Opening Times:
Monday-Saturday 10.00 am - 4.30 pm.
Cost
Free Admission
Café
Available 9:30 am until 3:30 pm with a selection of sandwiches, toasties and panini's, along with homemade soup and baking.
---
Image Gallery of Clydebank Museum
Click on the large image to start the full screen slide show.
---
For General Enquiries
You can call us on 0141 562 2400
If you wish to donate an item to the museum collection please do not bring it into the museum without first speaking to the relevant member of staff:
Singer/Sewing Machine related donations please contact Laura MacCalman.
Email; laura.maccalman@west-dunbarton.gov.uk
Tel: 01389 608041.
For all other collection related donations please contact Andrew Graham.
Email; andrew.graham2@west-dunbarton.gov.uk
Tel: 01389 772149.
For archive related donations please contact Chris Cassells.
Email; christopher.cassells@west-dunbarton.gov.uk
Tel: 01389 772147 (Wed, Thurs, Fri).
For all donations it would be helpful if you provided a description of the item/items and a photograph (via email). For Singer sewing machines please provide the machine serial number as part of your description.
Or write to us at:
Clydebank Museum
Clydebank Town Hall
Dumbarton Road
Clydebank
West Dunbartonshire
G81 1UE
---
For School Visits
---
Related Information
Please click here to see our Learning Brochure
Please click here for details of exhibitions in Clydebank Museum
Please click here for details of Archives and family history
.
---
Museums are supported and part funded by...