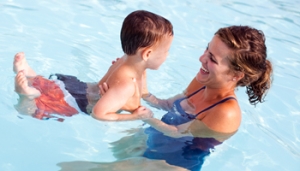 West Dunbartonshire Leisure delivers an extensive Learn to Swim Programme which offers opportunities to learn to swim from baby to adult within the local community. We also provide pathways into further development of a sport that can be participated in for life.
Baby and Toddler Swimming - A parent and child programme which offers classes for children from 3 months old – 3 years. This is the first step of introducing your child to the aquatic environment where the parent will learn techniques on supporting the child in the water and building the child's confidence before they join the Learn to Swim Scheme on their own.
Pre-School Swimming & Learn to Swim Scheme - The Learn to Swim Programme provides swimming lessons for children aged 3 years +. Children will progress through the levels within the programme achieving set outcomes for each. You will see your child progress from a non–swimmer to a competent swimmer through progression within these levels. Enrolment days are held in each of the swimming lessons sites to join this programme.
For full details of our swimming development programme visit the learn to swim page.