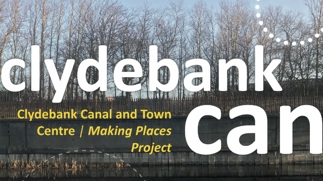 'Clydebank Can' is an exciting new project aimed at involving local people in shaping the future of Clydebank town centre and the canal area. This project, part of the Making Places Initiative, is a partnership between West Dunbartonshire Council and Scottish Canals and is funded by Scottish Government.
We want to work with you to take forward a community led design approach to the area, building local capacity to deliver projects and activities within Clydebank Town Centre and around the Forth and Clyde Canal. The projects and learning from this project will directly influence our Local Development Plan, currently in development, and inform locality planning in the area.
This project sits within our broader 'Your Place, Your Plan' approach to involving residents in planning for their local communities.   This partnership approach began with local consultation events held in September 2017, where residents from the Clydebank area clearly stated they wanted more community involvement in improving the Town Centre area. 
'Clydebank Can' will build on this engagement with our residents, giving them the opportunity to influence the shape and design of further activities and plans for the area.  This enhances delivery of recommendations from the Clydebank Town Centre Design Charrette which took place in 2015.
Kevin Murray Associates, a consultant team who've worked with the council on similar activities in Dumbarton and Bowling, will be leading on delivery of this ambitious project and engagement programme, which will include a number of targeted meetings and workshops, activity days, as well as community led design workshops.
Our key engagement events are detailed below, please come along to as many of these as you can.  We need your views and input to strengthen plans for the Clydebank Town Centre area and make sure they deliver on residents' aspirations for their local community.
1.   Afternoon at the Bandstand: to be held on 24 March 2018 at the bandstand at Three Queens Square, Clydebank, between 12pm and 2:30pm; search for #clydebankcan
2.   Community Design Workshop 1: to be held on 18 April 2018 in Clydebank Waterfront Parish Church between 1pm - 8.30pm
3.   Community Design Workshop 2: to be held on 4 May 2018 in Centre 81, Braes Avenue, Clydebank between 8am and 8pm;
      Business Breakfast Workshop between 8am and 10am
      Sign up at:
      https://www.eventbrite.co.uk/e/clydebank-can-making-places-business-workshop-tickets-45432140756
      Community Design Workshop between 10am and 8pm
4.   Design Workshop 3: to be held on the 23 May 2018 at Clydebank Town Hall between 10am and 8pm.
      The programme for the design workshops can be found here .
Community Design Workshop 1
Community Design Workshop 1 took place on the 18 April at Clydebank Waterfront Parish Church.  At this workshop we discussed the current positives and negatives of Clydebank, considered how the place might change in the future, and ended with a discussion of what the principles should be for future change in the town centre.  Please see the below documents to find out more.
Even if you cannot make it to any of the planned events we need your views. Please take some time to give us your views by completing this survey:   https://www.surveymonkey.co.uk/r/LFMMJKG
Follow us on social media at https://www.facebook.com/Clydebank-Can-571025833255264/
or #clydebankcan on Twitter and Instagram
Photos from the Afternoon at the Bandstand can be found on our social media pages.
For more information please contact: 
LDP@west-dunbarton.gov.uk or clydebank@kevinmurrayassociates.com