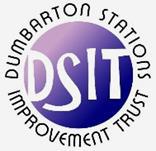 Dumbarton Central Station is one of 13 'A'-Listed stations in Scotland.  It occupies a prominent position to the north of the town centre and generates almost a million journeys a year.  Its importance as a gateway to the town was recognised in both the 2014 revised urban strategy for the town and in the 2015 Charrette.  Both documents highlighted the need to enhance the station and improve access to it. 
Silverton & Overtoun Community Council commissioned Strathclyde Building Preservation Trust to prepare a Scoping Report in 2014.  This examined the condition of the station and recommended that a Conservation Management Plan (CMP) be undertaken. 
Dumbarton Stations Improvement Trust commissioned a team lead by Lesley Kerr, Conservation Architect, to produce a CMP to identify challenges and opportunities in and around the station and provide policy guidelines for future proposals.  The CMP is supported by both Network Rail and ScotRail/Abellio.  Full details of the CMP are available in the Conservation Management Plan for Dumbarton Central Station.