West Dunbartonshire's First Community Soup
A successful first Community Soup was held on 23rd April in Centre 81, Whitecrook, Clydebank. This was jointly organised by West Dunbartonshire's Communities Team and Clydebank Housing Association staff based at the Centre. The Soup was provided by Café 81, also based there.                
Community Soup is a simple idea which allows local people to provide small amounts of funding to support projects and ideas being delivered in their area.
Local people are asked to turn up on the night, donate what they can afford to gain entry at the door. Whilst enjoying a bowl of soup, they listen to people from their local community speak about projects they would like to deliver in the area and then vote on which project they think should be funded.
The project or idea which gets the most votes on the night takes away the money raised on the door to deliver their idea to the community.
The winner of the first Community Soup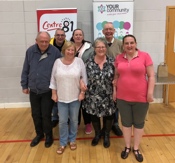 Is a Whitecrook based group called Aspire 2
Aspire 2 are a recently established peer-led support group for people affected by mental ill-health. The £73 they took from the night will be used to cover the costs of their meetings and pay aromatherapy oils which the group use for relaxation.
Other ideas that presented on the night were
• Bloomin' Baskets, a project to provide low cost hanging baskets to people in Drumry to brighten up the neighbourhood
• Café 81 who wanted to make their service more inclusive by providing sensory menus for people with communication difficulties
• A plan to provide an afterschool café in South Drumry presented by Drumry and Linnvale Community Council
• the Recycling Room who are producing and distributing "Challenge Packs" that provide advice on simple home cooking, upcycling and repurposing to families who find it difficult to make ends meet
We will be planning further Community Soups and working with local groups to organise them.
Please contact the Communities team (Clydebank) at: YourCommunity@west-dunbarton.gov.uk If you would like to organise a Soup in your area.