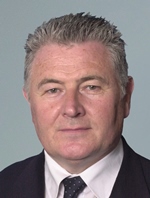 Party: Independent
Ward: Ward 5 - Clydebank Central
Positions:
Allowances and Interests:  Register of Allowances
Surgery details:
First Tuesday - Chapel House at the rear of St Eunan's Church - 6pm - 7pm               
Second Tuesday - The Hub CE Centre - 6pm - 7pm
Third Tuesday - Parkhall Tenants' Hall - 6pm - 7pm
Fourth Tuesday - Double L Centre, grounds of Linnvale Primary School - 6pm - 7pm
Please note Bailie Agnew is unable to hold a surgery in South Drumry.  His current surgery will no longer be held due to not gaining access to South Drumry Community Hall.
Appointments and home visits to elderly, disabled and housebound constituents are available on request.
Contact information:
Bailie Agnew can be contacted at Clydebank Town Hall on:
Tel:  01389 738565 or 0141-952 8954
email: denis.agnew@west-dunbarton.gov.uk
Other Councillors representing this ward: