Published 02 June 2015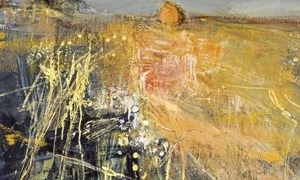 A new exhibition celebrating the work of acclaimed artist Joan Eardley is set to open at Clydebank Museum and Art Gallery.
The stunning exhibition, which has been carefully curated with support from the Eardley Estate, will include works which have never been on public display before.
Joan Eardley: Time and Place explores subjects that captivated and inspired Joan throughout her artistic career. A series of key loans – including drawings from the Scottish National Gallery of Modern Art, Edinburgh, not previously exhibited to the public – have enabled Clydebank Museum and Art Gallery to present an absorbing overview of the artist's work.
The exhibition, which runs from 5 June to 24 October 2015, will include Eardley's poignant portraits of children from Townhead in Glasgow, painted during the period of change and regeneration that followed the Second World War. These sit alongside landscapes and seascapes that demonstrate Eardley's ability to capture on paper or canvas the energy and drama of the changing seasons. 
A selection of photographs by Eardley's contemporary, Audrey Walker, on loan from the Gracefield Collection, Dumfries and Galloway Council, offer a further insight into Eardley's artistic life.
Eardley is widely recognised as having been one of the most important and gifted artists working in Scotland during the 20th century. Born in 1921, in Warnham, Sussex, Eardley moved to Scotland at the beginning of the Second World War. She studied at Glasgow School of Art, graduating in 1943 with prizes for her drawing and painting, and for her portraiture in particular. She spent her lifetime as a working artist and died from breast cancer in 1963, aged just 42, a few short months after her election to the Royal Scottish Academy.
West Dunbartonshire Council's Convener of Educational Services, Councillor Michelle McGinty said: "We are delighted to have secured this exhibition by much loved Scottish artist Joan Eardley, and this goes to show the growing importance of the Town Hall as an art space. 
"This is an exhibition which will appeal  to many people both those who are passionate about Joan' s work and those who may be aware of her famous paintings of Glasgow  street kids and are seeing the work up close for the first time."