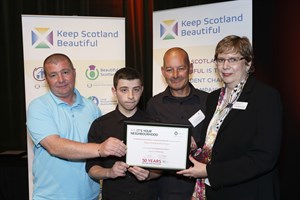 The Dalmuir Park Restoration Project has been ongoing since April 2012, and as part of the ongoing activity plan, volunteers worked very hard to transform a previously disused greenspace area within the park into a community garden for volunteers, schools, nurseries and other organisations to visit and enjoy.
Sandra Anton, WDC's Community Engagement Ranger has been facilitating this project and is actively engaging with the community and other groups to encourage visitors to the park.  As well as the garden, activities such as Inspirational Walks, school nature activities, art workshops, theatre walks, archery and community days are ongoing.
The park has also just recently achieved Green Flag status. These park activities and events not only encourage increased visitors but they also provide an opportunity for people to learn more about their local environment and the park's heritage resulting in a sense of ownership and civic pride in the park and its cultural and social heritage.
In recognition of their hard work, volunteer Dean Canavan and staff Sandra Anton, Derek Hutchison, Charles Baird attended the recent Keep Scotland Beautiful Awards Seminar at the Albert Halls in Stirling where they were presented with a Royal Horticultural Society and Scotland in Bloom 'It's your Neighbourhood' recognition award.  With the category achieved being thriving. 
For further information on activities and events in Dalmuir Park please contact West Dunbartonshire Council's Community Engagement Ranger Sandra Anton on telephone number 0141 952 6074 or email.