St Serf's Church is a medieval structure that underwent extensive alterations during the 19th Century.  The church is a Scheduled Monument and important feature within the park, which demonstrates the historic nature of the area.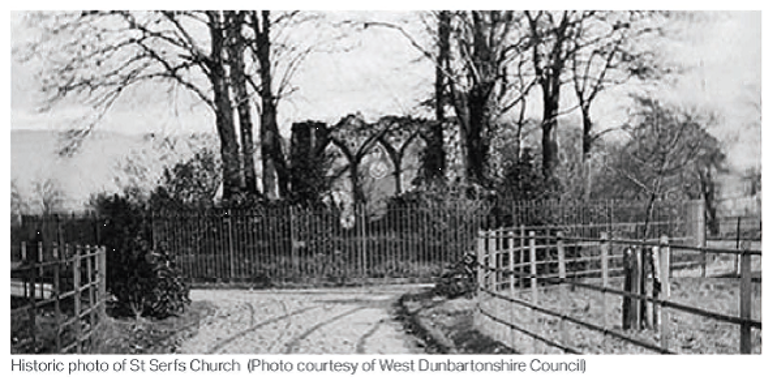 History
1200 - 1400
The church was first mentioned in the charter of 1226 as the Parish Church of Cardross.  The extensive Parish of Cardross should not be confused with the village of Cardross, approx 5km for Dumbarton.
The church rose in prominence in the 14th Century when it was associated with Robert I (Robert the Bruce), whilst he lived (and died) at his manor, probably Leven, just outside of Dumbarton.  This connection has given rise to a belief that the viscera (internal organs) of Robert I were buried at St Serf's in 1329 after his embalming.  There is a plaque detailing this event on the northern side of the ruined church.
1600's
St Serf's remained the Parish Church of Cardross until about 1644 when the parish boundaries were redrawn and a new church erected in the village of Cardross (subsequently replaced on the same site in 1867). St Serf's, together with it's tiny clachan, then gradually fell into ruin.  In Blau's Atlas of Scotland if 1654, the site is shown as 'Little Kirktoun' (of Cardross).
1800's
In 1805, when the lands of what is now Levengrove Park were acquired by John Dixon, the ruined church was adopted as the family burial ground.  There are still Dixon family gravestones and large stone memorial plaques within the ruined church walls.
The Dixon family, who were prominent owners of Dumbarton Glassworks (1777 - 1850), built Levengrove House (demolished about 1880) and developed the grounds, which now make up much of the existing park.
1900 - 2018
The ruins were previously enclosed by a chain link fence on a small knoll within Levengrove Park.  The area within the fence contained a number of trees that blocked out much of the sunlight.
Restoration Process
St Serf's Church was selected as a key area for restoration.  The repair works were funded by an Ancient Monument Grant and included;
removing the chain link fence 
removing trees and vegetation which were damaging the structure
removing and replacing well-meaning but inappropriate modern repairs, where possible; and
adding a new low seating wall around the church.
The work has helped secure the future of this important monument and has allowed it's story to be told.