Disability Sports Finder Web Site

West Dunbartonshire Leisure in partnership with Inverclyde Council and East Dunbartonshire Leisure and Culture have launched an exciting new Disability Sports Finder website, http://www.disabilitysportfinder.org.uk/
This unique website is been designed to help families affected by disability to access physical activity sessions in their local area. 

Disability Sport Finder is a unique and free to use website designed to help people access information on physical activity sessions and events for people with a disability in their local area.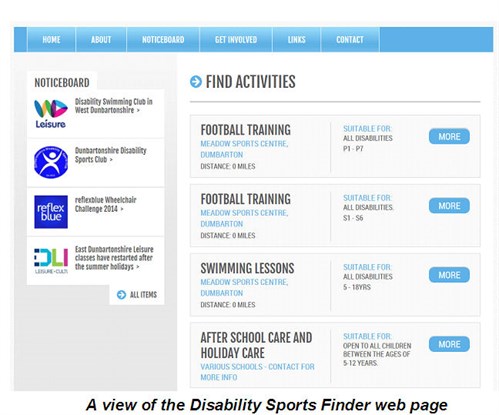 All the activities are provided by Volunteer Clubs / Organisations, Local Authorities and National Governing Bodies. The activity finder will search locally and nationally within Scotland and provide you with all the details you need for your chosen activity. In time, the website will also act as a platform for organisations involved to improve partnership working, volunteer recruitment and self promotion.
If you have an activity / event in West Dunbartonshire you would like to see on the website or for further details please contact Tommi Orismaa, Sports Development Coordinator.