Bookbug sessions are fun, FREE 30 minute sessions for babies, toddlers and their Parents & Carers. They include songs, action rhymes and sharing stories with time afterwards to browse our library stock.
Booking a Place
Please note that due to restrictions in our buildings ONLY our online Bookbug sessions are currently available.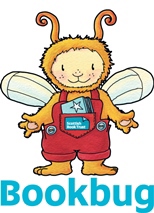 Online Bookbug Sessions
We are currently running online Bookbug sessions every Wednesday at 10.00am and a bedtime session every Tuesday at 6.00pm using the Google Meet chat room platform.
Why not come along and join us, we'd love to see you!
More Information 
For more information about these sessions or anything Bookbug related please email us at bookbug@west-dunbarton.gov.uk.
Gaelic Bookbug Sessions
Although unavailable in our library buildings at the moment our Gaelic Bookbug session for both Gaelic speakers and those wishing to learn Gaelic would normally be available in Dalmuir Library on Monday afternoons from 1.30pm-2.15pm.
Time and Locations (Currently Unavailable)
Bookbug sessions are normally available during school term time at the following locations and times:
Alexandria Library - 20 places per session 
Every Monday 1.30pm-2.15pm
Every Tuesday 10.00-10.45am
Every Friday 1.30pm-2.15pm
Balloch Library - 15 places per session
Every Wednesday 10.00am-10.45am
Clydebank Library - 20 places per session
Every Wednesday 1.30pm-2.15pm
Dalmuir Library - 20 places per session
Every Monday* 1.30pm-2.15pm (*Gaelic session)

Every Wednesday 10.00am-10.45am

Every Thursday 1.30pm-2.15pm

Every Friday 10.00-10.45am
Alternate Saturdays 10.30am-11.15am
Dumbarton Library - 20 places per session
Every Monday 10.00-10.45am
Every Tuesday* 6.00pm-6.45pm (*Bedtime session)
Every Wednesday 1.30pm-2.15pm
Duntocher Library - 15 places per session
Every Thursday 10.00-10.45am
Faifley Library - 15 places per session
Every Friday 2.00pm-2.45pm

Parkhall Library - 15 places per session
Every Monday 10.00-10.45am