Please note that there are currently no Storytime sessions available in our libraries due to ongoing restrictions.  Pre-recorded sessions are available on our Facebook page.
Pre-recorded Storytime Sessions  
You can still see our fantastic Storytime team reading a children's story followed by a related craft event on our pre-recorded Storytime sessions that are available on West Dunbartonshire Libraries Facebook page. 
Storytime Sessions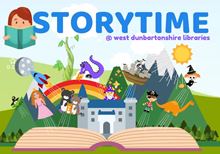 Come along and cosy down to hear cheery stories and fantastical tales. Perhaps you will be taken on an adventure with pirate dinosaurs and magical fairies, or go on a bear hunt with a brave princess and a grumpy dragon. 
Our sessions are fun, interactive and guaranteed to set your child's imagination soaring.
Storytime is aimed at children aged three to seven, but may be suitable for slightly older children, please ask a member of the Storytime team if you are unsure.
Contact details 
For more information please email: learning.development@west-dunbarton.gov.uk
Time and Locations
Storytime sessions are normally held, during term time, in the following Libraries:
Clydebank - Storytime sessions are currently suspended until further notice due to the ongoing refurbishment works in this library.
Balloch – Every Tuesday 3.30 - 4.15pm (Currently Unavailable)
Dumbarton - Every Tuesday 3.30pm - 4.15pm (Currently Unavailable)
Alexandria - Every Wednesday 10.30am - 11.15am (Currently Unavailable)
Dalmuir - Every Wednesday 3.30pm - 4.15pm (Currently Unavailable)
Please note registration is required to take part in the sessions .
Places are limited to one session per family.
Booking a Place
View more information and book your place on Storytime via Eventbrite when available.