2017 Annual Report
Welcome to our Macmillan Cancer Information and Support 2017 Annual Report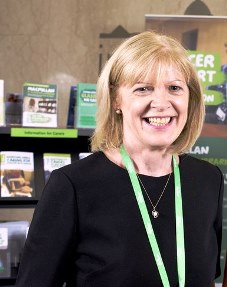 We often hear of people with a cancer diagnosis as being on a "Cancer Journey" and very often they take their family, friends and loved ones with them. 
Our programme is here to support them on that journey. 
The impact of a cancer diagnosis can leave families feeling devastated and lost, each trying to deal with this trauma in their own way and often concealing their true fears from each other. 
Macmillan Cancer Information and Support Services in West Dunbartonshire Libraries offer people a safe and relaxed environment in their local community where our trained volunteers are always ready to offer that listening ear and give people the time to talk openly about their feelings and support them to access the help they need. 
Although we are only in the early stages of our programme I am so proud of the impact the Macmillan @West Dunbartonshire Libraries service is already making in the local community. Through building relationships with other organisations, strengthening referral pathways and raising awareness of our services we have already provided greater opportunities to improve the quality of life of people affected by cancer. 
I hope you will enjoy reading our report.
Best Wishes,
Helen Shearer