McLays Foods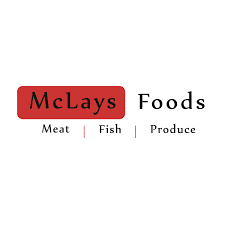 McLays Foods supported local West Dunbartonshire foodbanks Food for Thought and West Dunbartonshire Community Foodshare with deliveries of fresh fruit and vegetables over a 4 week period as part of their social benefit offer.
"The donations of fruit and veg we received from McLays were fantastic and greatly appreciated. It helped us provide nutrition in our emergency food parcels that we give out to people affected by food poverty in West Dunbartonshire" - Food for Thought.
"West Dunbartonshire Community Foodshare were delighted to receive donations of over £300 worth of fruit and vegetables each week from McLays Foods. Having healthy, fresh fruit and vegetables to include in our emergency food parcels was wonderful, and our recipients were delighted to receive such a great selection of good quality food. We appreciate the support that McLays Foods gave to the residents of West Dunbartonshire experiencing Food Insecurity." - West Dunbartonshire Community Foodshare.
Inspired Energy

Inspired Energy provided a £200 donation to Alternatives Community Based Recovery. Please see below how this donation was put to good use to benefit their Knowetop project.
'The donation we received from Inspired Energy is being used to purchase a fridge and microwave for our horticulture and wildlife project at Knowetop, a 15.5-acre site in Castlehill, Dumbarton. They will temporarily be at Alternative's unit at the Leven Valley Enterprise Centre, where our tools are stored, and our recovery clients meet whilst we are waiting for our workspace on site to be in place. We share this with Alternative's Upcycling & Recycling project, so staff and clients from both projects will be able to use them. Once we've got facilities on site at Knowetop we'll be moving them up there and they'll be used by staff, recovery clients and volunteers. If we get another long spell of hot weather cold drinks, rather than lukewarm ones will be appreciated by everyone!' – Alternatives
Carers of West Dunbartonshire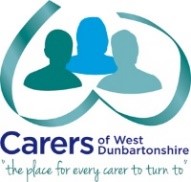 Carers of West Dunbartonshire recruited a member of staff from West Dunbartonshire as part of their social benefit offers. They also made a very generous donation of £500 to Y Sort It.
'On behalf of Y Sort It I would like to say thanks very much to Carers of West Dunbartonshire for their generous donation of £500. This money will be put towards our "Helping Hand Fund" which was created by our youth management board to support families in times of hardship and also promote health and wellbeing. Many of our young carers have accessed this funding and has used it to purchase bikes and sports equipment.' - Y Sort It.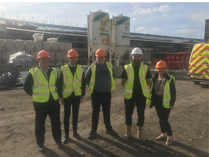 CCG
CCG worked with West Dunbartonshire Foundation Apprenticeship Team to organise a site tour of the new Clydebank Care Home for the young people currently participating in their Foundation Apprenticeship Civil Engineering  Programme.
Skanska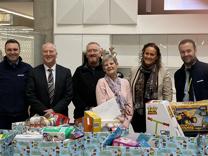 Skanska team dropped into Church Street to donate a fantastic food donation worth £250 to the WD Community Food Share.