Published 08 August 2023
Councillor Clare Steel, Convener of Educational Services, said: "I am extremely proud of how hard every single pupil has worked and have enjoyed hearing about the many different paths they are now taking in life. From university courses to apprenticeships, and college qualifications to entering the workplace, their hard work over the years has well and truly paid off.
"Whether they are continuing at school for another year or two, or they are moving on to a new stage of their lives, I wish each and everyone one of them the very best of luck in the future."
Councillor John Millar, Vice Convener of Educational Services, said: "We can all remember how nerve wracking exam time and the wait for results can be. I hope everyone is pleased with the outcome but I also want to remind everyone that success comes in so many forms, and regardless of the results today, all pupils should be proud of their efforts to achieve and move on to the next stage of their life."
In West Dunbartonshire, results show that 95% of pupils received  a national qualification, including 75% of those presented receiving an Advanced Higher Pass and 88% of those presented achieving a Higher pass.
At National 5 level, 89% achieved a pass, while 95% achieved a National 4 qualification.
Laura Mason, Chief Education Officer, said: "We are proud of all of our pupils whose hard work throughout the year has seen them achieve such good results.
"I would also like to thank staff for their dedication in guiding pupils through this process, preparing them with the skills and experiences to help them thrive when they leave school; and to parents who have supported and encouraged their young people to achieve."
"Our goal now is to continue improving attainment and ensure every young person in West Dunbartonshire is supported to fulfil their potential."
A pupil case study from each of the area's schools is below for use.
David Alexander – Vale of Leven Academy
David Alexander leaves Vale of Leven Academy to attend a Games Development course at City of Glasgow College.
David joined the Communication Base with the challenging diagnoses of ASD, ADHD and Tourette's syndrome but over the years, his commitment to learning became evident when his support became less intense and he became more independent.
Despite David's difficulties with social communication and interaction, his curiosity of people and his desire to be accepted by others have given him the self-determination to overcome any limitations and fears that his diagnoses presented.  David was awarded the Base Champion award in 2021 and was the first pupil to be awarded the Excellence in Maths Award for his commitment to learning during the pandemic.
David has been equally determined to achieve academically gaining A's in Higher Maths and Music; National  5 in Chemistry and sitting Higher Chemistry and National 5 Computing this year.
David's love of the outdoors was recognised when he was awarded the John Muir Award and Junior Park Ranger Award from the Loch Lomond and Trossachs National Park and he also spent time volunteering at West Dunbartonshire Community Foodshare.
David has always shown an interest in games development and attend a part-time Games Development course at Clydebank College while still at school. This course led him to apply to the City of Glasgow College Games Development course. 
David, said: "My teachers have been really supportive and I wouldn't have achieved what I have without their support. In general, I can be very easily distracted but the teachers have kept me focused on my work. I know games development is a very difficult thing to get in to but I'm keen to start the course and see how I get on. I have enjoyed my time at school and will miss all the teachers who have helped me over the years."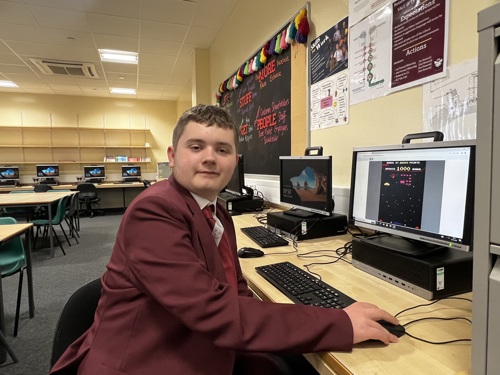 Ellie Stewart - Kilpatrick
Former Kilpatrick pupil Ellie has been accepted to pursue the Learner Development course at West College Scotland which focuses on independent living skills.
Additionally, Ellie will be participating in West Dunbartonshire Council's Work Connect programme, focusing on horticulture and joining a Social Enterprise course, Crafting Together in Clydebank.
Ellie has worked hard to achieve a variety of National 1 units and National 2 course awards. Most recently, Ellie successfully attained National 2 Media. Throughout the years, Ellie has overcome personal challenges and has emerged as an incredible individual who is poised to thrive beyond school.
Ellie, said; "I am really excited to start College in August but I will miss all my friends in Kilpatrick School. I would like to thank all my teachers and support staff within the school who have helped and supported me throughout my time at Kilpatrick School.  While I will miss them all and I am sad to be leaving the school, I am really excited to start my course at college and the Council's Work Connect programme."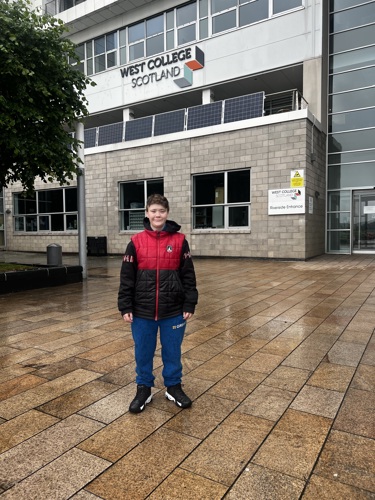 Emma Graham – Our Lady and St Patricks
Seeing her brother thrive in his role in a successful international organisation, Emma decided she wanted to follow his footsteps and secured a position within Aggreko.
Emma, 18, worked hard at school and was one of Our Lady and Saint Patrick's top pupils who could easily have gone to university but has decided to take a more hands-on route.  Emma secured a Graduate Apprentice and will join the procurement section within the international company.
In her final year Emma sat Highers in English, Maths, Modern Studies, History and Music. As well as being strong academically, Emma was also actively involved in the music department and was a regular performer in the school's musical concerts as a singer and playing the xylophone.
Emma said: "While I'm sad to leave school, I am really excited to start my apprenticeship and attend City of Glasgow College to study Procurement and Supply. I feel very fortunate to have secured my apprenticeship with such a big organisation. I have seen my brother progress well within the company, so I decided I would like to do the same. I'm very grateful for the opportunity to work in a world-wide organisation and all the possibilities that will bring. I have been very lucky with the support I received from my teachers, especially in my final year which was quite challenging.   But knowing they were there any time I needed them, was a great comfort and support to me."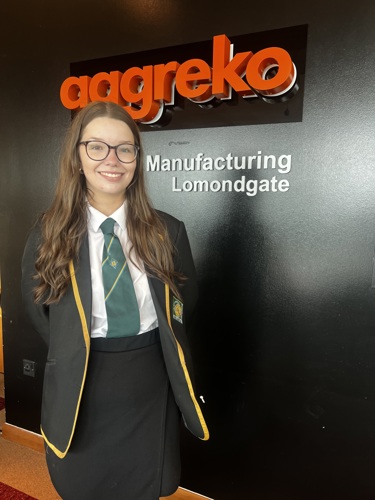 Jack Oliver  - Dumbarton Academy
Jack Oliver credits the arrival of a new music teacher, when he was in S5, for encouraging him to play at school shows, perform in front of live audiences and ultimately to follow his dreams.
Jack leaves Dumbarton Academy to study Bachelor of Music in Jazz at the Royal Conservatoire of Scotland.  The programme explores jazz and students get to play, perform, compose and record in many different jazz styles and settings.
Jack, 18, studied a range of subjects throughout S4, S5 and S6 specialising in both science and music.  In S5 Jack began attending the Royal Conservatoire of Scotland, studying Jazz guitar, assisted through their widening access Transitions programme.  Jack achieved Higher English, Maths, Physics, Chemistry and Music all at grade A and continued on in S6 to study Advanced Highers in Maths, Chemistry and Higher Biology. Jack was an exemplary pupil throughout his time at school and also made time to be a School Captain. 
Jack, said: "When Mr Pearson joined Dumbarton Academy, he really changed the music department and his encouragement, vision and positive changes really helped me decide my future. I received great support from my teachers, who advised me to follow my dreams, leading me to study a Bachelor of Music.  The course I'm doing, not only allows me to go on and be a solo artist or perform as part of a band, it can also lead into education.  The way the whole school got behind Mr Pearson was great to see and be part of and it's also something I might consider in the future."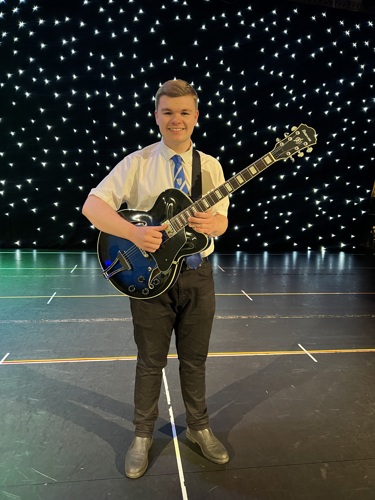 Joanne Durnan – Saint Peter the Apostle High School
A chance meeting with a Sea Cadet who was manning a stall at a local Gala Day led Joanne to join the Sea Cadets and inspire her choice of career.
Joanne, 18, has been an active member of the Sea Cadets for eight years and has served as the Lord Lieutenants' Cadet since 2021 attending many engagements with the late Queen Elizabeth. Joanne was an outstanding pupil at Saint Peter the Apostle High School and is looking forward to starting her course at the University of Strathclyde to study Naval Architecture and Marine Engineering. She was one of the first pupils to embark on a Foundation Apprenticeship in Engineering Systems and successfully completed this prestigious award alongside Advanced Highers in English, Maths and Higher Design and Manufacture.
Joanne, said: "Throughout my time at school I have always enjoyed STEM based subjects which encouraged me to consider engineering as a possible career route. I found that the Foundation Apprenticeship allowed me to apply practically the knowledge I had gained in school as well as developing my understanding of different aspects of engineering in various disciplines. The work placement was ideal in highlighting not only the knowledge but also the skills that employers are looking for. All in all, I think that the link between my schoolwork and college work helped me to gain a further understanding of many diverse topics relating to STEM which I think will greatly help me starting University. I received great support from all the teachers and staff at Saint Peter the Apostle High School and it's with their help and guidance I'm leaving school and embarking on a career of my dreams-and I really can't thank them enough for everything they've done for me."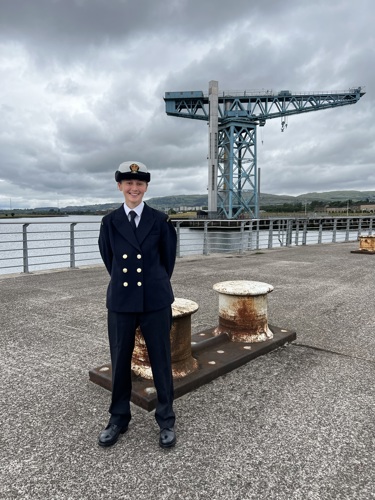 Kara Gillespie – Clydebank High School
Kara was unsure what she wanted to do when she left school until she attended an inspiring careers talk in school by Global Real Estate firm, Avison Young. 
Kara leaves Clydebank High School to work as a Quantity Surveyor following a new link established between the school and Avison Young, which led Kara to be accepted as a Graduate Apprenticeship where she will earn as she learns.
She worked hard at school and is now excited to be starting her career with a high profile company where she's keen to be part of making a real difference to places where people work and live.
Kara, said: "I feel really grateful to be joining the graduate scheme where I will learn from property professionals, gain first-hand experience in the field. I will attend Edinburgh Napier University two weeks a month and at the end of my degree, I will become a Chartered Quantity Surveyor.
"I am really thankful to all my teachers, especially my careers advisor, who helped me secure my apprenticeship and I'm looking forward to working on some of the biggest and most exciting development projects in the UK."