Published 07 July 2023
The Loch Lomond Highland Games are back in Balloch this summer with thousands expected to flock to the Moss O'Balloch Park to witness Scottish culture at its finest.
Highland dancers Alice MacBeth (6) Emily Coll (6), Amy MacQueen (7), Mirrin Comrie (10) are among more than 350 competitors who will be attending the games on 15 July along with Fraser Ward (25) who will be helping out on the day with the events.
People come from all over the world to take part – with past competitors travelling from Australia and New Zealand to get their hands on the £12,000 prize pot.
Visitors will have the chance to witness first-hand the extraordinary strength, agility and skill of athletes as they compete fiercely in these ancient Celtic sports. From the awe-inspiring display of the caber toss to the lightning-fast footwork of Highland Dancers and the thunderous sound of the pipe bands, every moment of the Loch Lomond Highland Games promises to be a captivating experience.
In addition attendees can expect a great show with from other events including running, cycling, wrestling, jumping and the tug of war.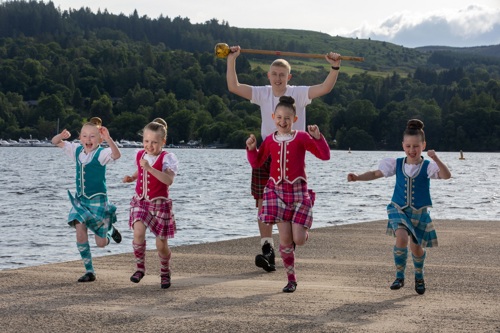 The event will close with a mass pipe band march through the main street in Balloch offering a dramatic end to what promises to be a wonderful event. The event will feature an array of stalls, foods and drinks with a fun fair for all ages.
The Loch Lomond Highland Games is run in a partnership between the Council and Loch Lomond Highland Games Limited,  with support from sponsors Ken MacDonald (Dram Mor Group), Waterhouse Balloch, Gift shop Balloch, Sandy Fraser (Oak Inn Balmaha), Lomond Print, Fraser Robb Ltd (Drymen).
West Dunbartonshire's Provost Douglas McAllister, said "I'm excited to be at the games again this year, it's a fantastic day for everyone to embrace Scottish heritage and enjoy a day of entertainment for the whole family. There's so much to do on the day and it's always a day filled with excitement, I want to urge everyone to come along and get involved."
Visitors should adhere to parking restrictions in and around the venue in Balloch and follow advice from the stewards.
The event is on from 9am-5pm and tickets cost £7 for adults, £4 for children and concessions, with a family ticket costing £16 (2 adults and up to 3 children).