Published 26 May 2023
A West Dunbartonshire foodbank is to receive more than £55,000 in funding over the next three years to support families struggling with the cost of living.
Members of West Dunbartonshire Council Corporate Services Committee agreed to support the charity by funding them £18,403 annually for the next three years from the Dumbarton Common Good Fund.
The charity offers support to residents experiencing the effect of poverty by offering emergency food supplies, holiday brunch bags and also run a school uniform bank. The charity also collects and delivers presents for a Christmas toy bank ensuring local children have presents to open on Christmas day. Families have also attended cooking and growing sessions organised by charity and families visiting the charity are signposted to support agencies.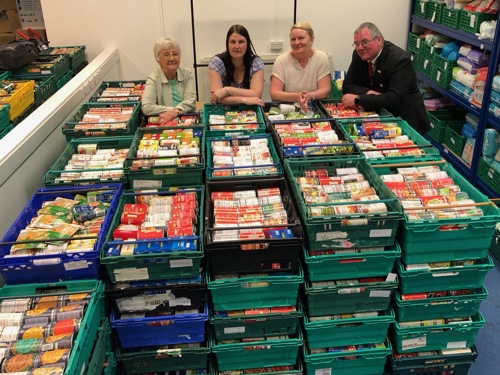 The money will be used to cover rental costs for the charity's Dumbarton premises and help with the running costs.
Clair Coyle from West Dunbartonshire Community Food Share, said the funding would "make a real difference".
"We would like to thank the Council for this vital support that will make a real difference to the many families we support. Knowing our rent and running costs are covered over the next three years will give us peace of mind and enable us to focus on continuing to provide our much-needed services for all residents across West Dunbartonshire."
Councillor Daniel Lennie, Convener of Corporate Services, said: "I recognise the critical role that food banks play in supporting our residents and I'm delighted this funding was approved today. This group has been a lifeline for residents who rely on groups like this for the important and essential services they provide. I'm sure this money will make a positive impact on the lives of those in our community who are struggling, particularly during these challenging times. As a Council we are dedicated to ensuring financial help is available to organisations who play a vital role in supporting some of our most vulnerable residents."
The Council also committed £1,000 every week to support West Dunbartonshire foodbanks. The additional £52,000 of funding will to help buy food items to supplement donations from the public and businesses. The Council has also invested £1m to help community organisations with their cost of living initiatives.
Other investments include the creation of a household energy fund of £250,000 and an innovative partnership with major energy suppliers to ensure residents experiencing significant levels of fuel poverty receive support and early intervention to maintain their utility supply. Families can also use West Dunbartonshire Leisure Trust for free swimming and gym sessions for school pupils during the school holidays
Councillor Michelle McGinty, Vice Convener of Corporate Services and chair of the Council's cross-party Cost of Living Working Group, said: "This money will help ease the financial burden on the great work carried out by this group, which is clearly making a difference to the lives of many residents across West Dunbartonshire. I am delighted that we are able to financially support these efforts and I would like to thank them for their continued hard work.