Smollett was one of the founders of the novel in English, a distinction he shared with novelists such as Henry Fielding (Tom Jones), Samuel Richardson (Pamela), Dean Swift (Gulliver's Travels) and Lawrence Sterne (Tristram Shandy).
His grandfather was Sir James Smollett of Bonhill, the representative for Dumbarton at the Union with England in 1707, and his father, Archibald, an idle feckless younger son, by Sir James' way of it at least, whose most dramatic accomplishment was reappearing at the family home married to a Barbara Cunningham, a proud, ill-natured woman with a sense of humour and a passion for cards!
Sir James settled on his son the life-rent of the farm of Dalquhurn. Tobias was the third child, born probably on Thursday March 16, 1721 after his mother was seized with labour pains whilst sitting at the foot of a tree by the house before Tobias was born.
His father died when he was two, and Tobias was brought up by his mother and educated at the grammar school in the old parish church of Dumbarton under the teaching of the famous Latin grammarian John Love. On the death of his grandfather in 1731 his mother moved to Edinburgh, and five years later Smollett, a "mischievous stripling" according to many of his contemporaries, went to Glasgow University to study medicine.
In 1739 he went to London to seek his fortune, carrying with him The Regicide, a play on the death of James I. Two years later he obtained a commission as a ship's surgeon, and was at the Siege of Carthagena in the War of Jenkins' Ear, where the sailors dropped like flies from the fever and were fed to the sharks!
Thereafter he went to the West Indies with the squadron and there met and later, in 1747, married Anne or Nancy Lascelles, a Creole, the daughter of an English planter.
Arriving home he set up as a doctor in Downing Street, neglecting his literary pursuits until after Culloden, when his irascibility and strong nationalism compelled him to write the poem The Tears of Scotland.
Thereafter he developed the picaresque novel, firstly in The Adventures of Roderick Random, 1748, which was largely autobiographical, dealing with his own wanderings through the world. Old Random Street in Alexandria derived its name from this.
After gaining his M.D. from Marischal College, Aberdeen, he went to Paris with Dr John Moore, the father of the hero of the Battle of Corunna in the Peninsula War, and out of this came his second novel, The Adventures of Peregrine Pickle.
Two years later appeared his third novel, The Adventures of Ferdinand Count Fathom. The sheer nastiness of these three novels may come as a surprise to modern readers, but give a chilling view of the depravity of the time.
He worked on many pieces in the next few years, notably a translation of Cervantes' Don Quixote and a multi-volume history of England. After three months in jail for libeling someone in a magazine article he published his fourth novel, The Life and Loves of Sir Lancelot Greaves, in 1762.
In April 1763 his only child Elizabeth, whom he adored, died and, breaking under the strain of London life that autumn, he took his wife to France and Italy, and on his return wrote Travels Through France and Italy, published in 1765.
Next year he came back to Scotland, was feted in Edinburgh, welcomed in Glasgow and stayed with his cousin James at the newly-built Cameron House near Balloch. His mother died that autumn.
In 1769 he left Britain again for the last time and settled near Livorno in Italy where he wrote his last and best novel The Expedition of Humphrey Clinker, 1771. He died that year and was buried in the old English cemetery in Livorno, the only place that Protestants could be buried at that time.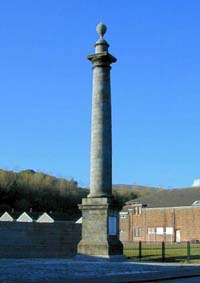 His wife lived on in the villa near Livorno, receiving some money from the family at Cameron House. At home his cousin James died childless in 1776 and the estates devolved upon Tobias' Sister Jane who had married an Alexander Telfer, and from this marriage descend the Telfer-Smolletts of today.
In 1774 his cousin James had a Tuscan column erected to Tobias in Renton, the Latin inscription being composed by Dr Stuart of the University of Edinburgh and added to by Dr Johnson during his stay at Cameron House on his tour to the Hebrides.