Balloch Castle Country Park is one of the finest public spaces in the West of Scotland with fantastic views over Loch Lomond and plenty of things to see and do.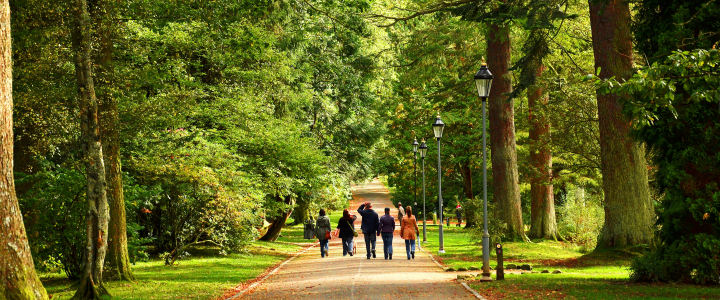 Balloch Castle Country Park lies on the southeast shores of Loch Lomond, on the northern edge of Balloch, 20 miles north of Glasgow. The park itself comprises 200 acres of semi-natural and ornamental woodland, open parkland, formal gardens, meadow, play parks and shoreline. It is located directly on the south-east shores of Loch Lomond, on the northern edge of Balloch.
The park is quintessentially a 19th century private estate, developed as a park at the beginning of the 20th century. Its design and layout has remained largely unaltered since 1800, at the time the current castle was built. In the park you can explore the Fairy Glen, Chinese Garden, Pleasure Grounds, Quarry Pond, Kitchen Garden, Secret Garden, Woodlands and Parklands. Public toilets are available at Balloch Castle from 09.30am to 3.00pm every day.
A 'Fairy Trail' has also been established in the park by Patrick Muir which utilises the stumps of trees which have had to be felled.
Balloch Country Park is unique in being the only registered historic designed landscape within Loch Lomond and the Trossachs National Park. The Park Authority has some more information on Balloch to help you enjoy your visit even more.
The park plays host to the Loch Lomond Highland Games every July and has been the venue for major concerts including REM, Oasis, and Runrig.
Please follow the Scottish Outdoor Access Code when visiting Balloch Castle Country Park.
Various improvements were made to Balloch Castle Country Park as a result of a Heritage Lottery Fund Grant for the Boat House and Walled Garden. Please note the walled garden is locked overnight and is usually open between 10am and 3pm each day. 
Volunteering
The Council's Greenspace team are looking for volunteers to help with a variety of conservation projects and maintenance tasks across West Dunbartonshire.
You can find out what opportunities are available on the Volunteer with Greenspace page.