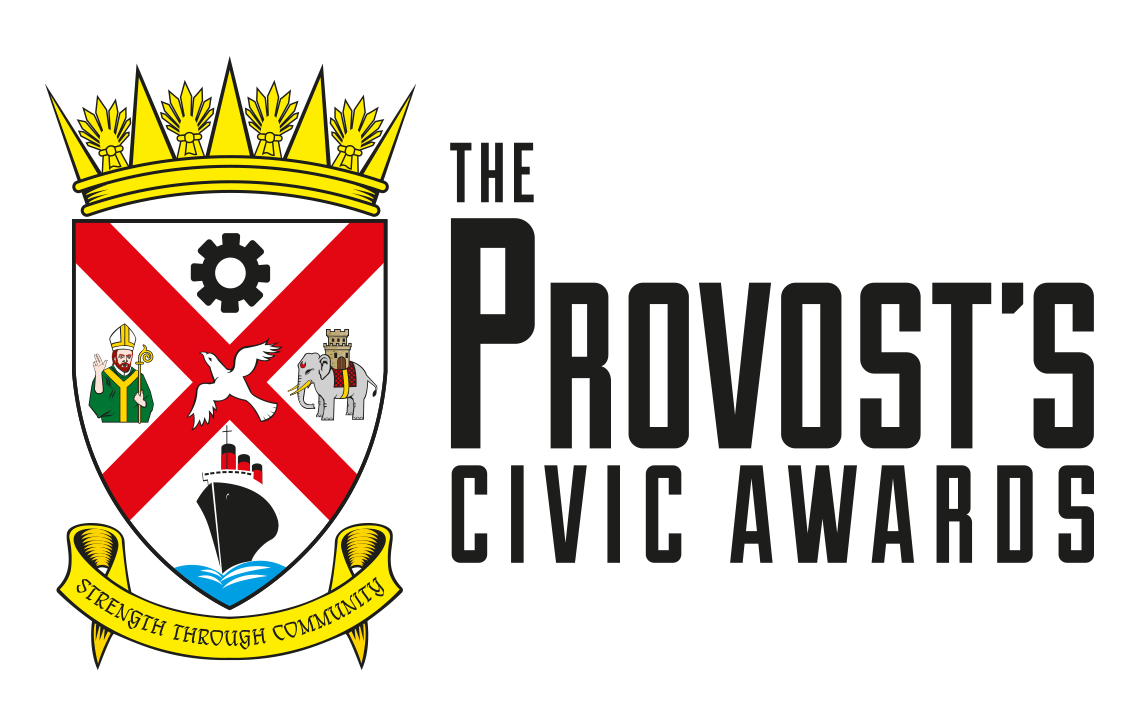 2022 Provost's Civic Awards
The event was held on October 7 at Clydebank Town Hall, in partnership with CCG where the overall winners were announced by Provost Douglas McAllister.
The 2022 winners are as follows:
Arts and Culture Champion (sponsored by Polsec Group Ltd.) 
Lottie Barker, Clifftop Projects
Lottie started Clifftop Projects during the lockdown as a means to making the arts accessible to all regardless of age, ability or personal circumstances.  She works tirelessly to find funding opportunities to keep all Clifftop activities completely free of charge to participants.  This has included:
Weekly Art in the Park sessions at 3 of West Dunbartonshire's public parks, providing art packs to take home and running creative activities for hundreds of children in the parks.
Founding an intergenerational dance company with a group of novice dancers & taking their performance to the stage alongside professionals from all round the world at Glasgow's Tramway Theatre in July 2022.
Running holiday art camps and weekly art classes for 5-8 and 9-13year olds
Theatre Trips for young people (approx.70 young people benefited from day trips this summer).
Running weekly Adult Creative Club to reduce mental health and isolation in the local community through introduction to different art mediums/genres
running monthly Youth Creative Cafe for 13-25yr olds.
Producing short films in and with the local community encouraging mixed media participation.
Working collaboratively to produce a Covid Memorial in our local community
providing paid opportunities to local freelance artists to help them grow their businesses and craft.
Sports Champion
John Joyce
John started helping out at Renton Craigandro as a parent in January 2018 and by the summer, he was head coach. During the pandemic he continued to interact with the kids and ran zoom training and set up YouTube training videos to keep the kids training, interacting and to socialise with their team mates and friends during a hard time for young kids.
John's year group (2014s) now have 36 children with a mixture of boys and girls who train twice a week. He has engaged more parent volunteer coaches to assist and children all have the opportunity to plan in a league game at the weekend. John goes above and beyond to encourage the kids to be the best and constantly improve as well as organising lots of additional games /tournaments so the kids can represent their team all over Scotland.
Renton 2014's recently won 'Barca Experience' a tournament which now puts them forward to play football in Spain next May.
Many of his players have been scouted for Celtic and St Mirren and these boys are encouraged to continue to play with Renton as well as their SPL Teams and John welcomes the opportunity and encourages them all.
In 2021, John's daughter Evie couldn't get into a girls team, so John decided to start the first Renton Girls' Team. Not knowing if there would be much interest he put a post on Facebook and within 48hrs all the spaces were filled. The Renton girls' team train currently once per week with three coaches and are starting a Sunday league later this month.
John does all of this while being a local firefighter, husband and father to 3 kids. His dedication, passion and enthusiasm helps local kids realise their dreams, all within his own time.
Community/Voluntary Champion (Individual)
Colin Hay, Linnvale Community Group
Colin had an idea during the pandemic of helping people and improving our local area in Linnvale. Over a year and a half ago he started the Linnvale community group by approaching people he met while out walking his dog, and by using social media to spread the word.  Since then the community group has gone from strength to strength.  Colin is the driving force of the group helping to encourage and support others with ideas to improve Linnvale community.
Community/Voluntary Champions (Team)
Bags Full of Love
Bags Full of Love is a charity that was formed by two foster carers Fiona and Leigh-Ann Hennebry, who understand through experience that 99% of children coming into foster care come with nothing other than the clothes on their back. They arrive into a strange new environment with people they had never met before.
Fiona and Leighann started Bags full of Love last year in West Dunbartonshire. The new charity gives a specially made up backpack to suit any age, ready to be given out at any time of the day. This will ensure that carers do not need to go out shopping immediately for clothes etc. and the initial and important bonding can happen. The bags for babies include nappies, vests, sleep suits, clothes for at least three days plus a cuddly toy. Older children will have toiletries in their bags. The bags vary for all ages up to 16. Bags Full of Love has identified a great need to provide items for the baby or child and older child to have something that is theirs and that no one can take from them. The children may grow out the clothes but the bag and cuddly toy is there to keep. 
They are both foster carers for West Dunbartonshire and are well regarded by both other carers and Social Work.
A child who all of a sudden is removed from his/her usual environment is very vulnerable and to be handed clothes that others have worn before has an affect that makes them feel unwanted even more. This is a wonderful initiative and Fiona and Leigh-Ann are doing an amazing job ensuring all children that come into care have something to call their own..
Youth Champion
Zoe Neeson
Look for a Book West Dunbartonshire is an exciting 'hide and seek' style game created locally by school girl Zoe Neeson, who after visiting Edinburgh Zoo found a book and was excited to not only read the book, but was encouraged to hide it for other kids to find and enjoy.
Zoe had so many books in the house she had outgrown and so decided to hide 5 around the Dumbarton area to see if others would get involved. Zoe and her Mum posted a video on social media with clues to help other kids locate the books and were excited to find children reading them excitedly on their way home.
Look for a Book West Dunbartonshire has proved hugely popular with school kids all across West Dunbartonshire, with Zoe's Mum Claire setting up a Facebook page and encouraging others to take part.
The Facebook page now has 2500 followers and continues to see parents and children find and hide books via the social media platform. Claire also helped get thousands of waterproof packs stocked across West Dunbartonshire Libraries to encourage others get involved.
Zoe has set up one of the most talked about self-starting initiatives in this area which focuses on learning, reading and getting outdoors - but most of all, makes reading fun and exciting for all involved.
Citizen of the Year
Citizen of the Year award, sponsored by CCG was awarded to Bags Full of Love.