Street Lighting Upgrade
Find out about improvements to street lighting
West Dunbartonshire Council is replacing all of its current street lighting lamps with low energy modern Light Emitting Diode (LED) technology.
With just over 17000 streetlight units being upgraded the Council will better conserve energy, reduce the Council's carbon footprint and deliver savings of £650,000 per annum.
Currently the Council spends £720,000 a year on street lighting energy.  Once installed, the new lights will lead to a 65 percent energy saving in current street lighting consumption.  This will reduce our energy costs to approximately £250,000 per annum.
The new modern LED fittings emit a crisper, white light and make street lighting appear brighter and more concentrated compared to the old kind of yellow street lights.
Work began in January 2015 with the rollout expected to continue until Spring 2016.  The Council have contracted Lightways Contractors Ltd. to install the new lanterns, columns and sign lights.  Our current works programme is detailed below.  This will regularly be updated.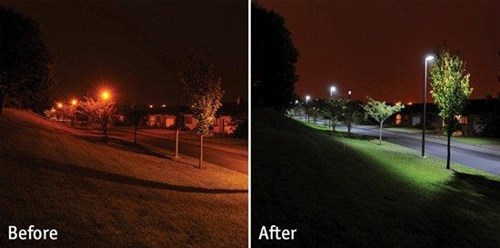 Frequently Asked Questions
What are you doing?
West Dunbartonshire Council has plans to replace street lighting lamps with just over 17000 new lanterns, columns and illuminated bollards with Light Emitting Diodes (LEDS) that will better conserve energy, bring efficiency savings and reduce the Council's carbon footprint.
Why are you doing this?
Firstly, many of our older lampposts are in poor condition and need to be replaced with more modern technology.  Orange light makes it more difficult to see true colours at night.  The new LED white lighting directs light on to the road and pavements helping to reduce traffic accidents, crime and the fear of crime, leading to safer streets.
Second, using new LEDs technology the new street columns and lanterns lights will result in a 65 percent energy saving equating to a financial saving for the Council of £650,000 amount per annum.
Third, by switching to new energy saving lights the Council will reduce its carbon emissions by 15%.
Who will do the work?
West Dunbartonshire Council have appointed Lightways Contractors Ltd.
When will the work be done?
Work began in January 2015 and is scheduled to take until March 2016 to be completed.
What is going to happen?
Around 11,000 lanterns and 1000 new lighting columns will be installed in residential side roads, a further 5000 lanterns in main roads and 500 illuminated signs will all be replaced in the coming months.
How is the work being funded?
The cost of the work is being met from the Council's Capital Programme.
Will there be holes all over the road?
It is impossible to install the new lampposts without digging some holes.  Our Contractor will try to dig as few as possible and fill them back in as soon as we can.  The Contractor will use barriers, signs, cones and even traffic lights if necessary, for safety.  Please make sure you follow all these signs.
Will I be able to park on the street?
Obviously, you cannot park where the Contractor is digging.  We will, however, try to keep as much parking space available as possible.
Can I park on my drive?
You should be able to use your drive as normal unless we are working directly outside your house.  If we are, we may have to ask you to park your car somewhere else for a while.  If you need to park close to your home (for example because you have a disability) please contact the Council on 01389 737 631 to make them aware.
Will you use traffic lights during the works?
If the road is busy or particularly narrow we may have to use traffic lights.  This is for your safety as well as that of our workforce.  We take great care positioning the lights to minimise any disruption.
Will the bins be collected as normal?
Bin Collection should take place as normal and all efforts will be done to ensure works are not being carried out in streets on their scheduled bin collection days.
What if I'm expecting a delivery?
If you are expecting a delivery speak to one of the workmen.  If you are concerned please ring the Council on 01389 737 631.
Why do I have two lampposts outside my house?
The underground electricity cables need to be disconnected from the old lampposts and reconnected to the new ones.  Once this has been done the old lampposts can be removed.  We will not leave the street in darkness.
Will it affect the electricity supply to my house?
There should be no disruption to the electricity supply in your home during the works.
Why hasn't the lamppost gone back in to the same place as the existing one?
The new lighting has been designed to meet the requirements of the new British Standard.  This along with new developments in lantern and lamp technology means we can light the highway using less lampposts and less energy but to a higher standard than present.
Why are the new lamp posts taller than the existing ones?
The height of the new lampposts on most of the residential streets have increased slightly, this is due to new modern lanterns which control the light much better than the existing lanterns, resulting in greater spacing between the columns and less street clutter.  The lampposts on main residential roads and traffic routes can increase from between three to five metres depending on the road usage.
The new lamp posts have been installed but they are not working yet?
Once the new lampposts have been installed, we will connect the new lighting and disconnect the old lighting.  The old lampposts can then be removed and the footpath repaired.
I don't want a lamp post outside my house.  Please can it be removed/changed?
The lighting is designed to ensure that we meet the current British Standard and specification of the Council.  This means that lampposts cannot always be replaced in their original position.  We do offer to check the layout design to see if there is scope to move a lamppost.  We can carry out the site visit where required and most of the time we reach an amicable agreement on the positioning of the lamppost.
Why not replace the lighting with new technology such as solar powered lighting?
Solar power is currently not suitable for highway lighting as it is not efficient enough to continuously power a street light capable of lighting the highway.  However, West Dunbartonshire Council will continue to monitor new innovations.
Why have some of the street lights been replaced?
Steel lamp posts over the age of twenty years are structurally tested to ensure they are safe.  Those which are past their useful life are replaced with columns which are sometimes taller and help us to meet the current lighting standards.  This may mean changing the location of some lamp posts.  If an existing lighting column is in good condition and in an appropriate location to meet the latest design standards the column will be reused and only the lantern changed.
When will the scheme start in my area?
The scheme is being implemented across West Dunbartonshire and will start in January 2015.
Will I get a reduction in my Council Tax?
No, any savings will be used to support other Council services.
The lighting on my street is too bright, can it be turned down?
New street lighting will be designed in accordance with British Standards taking account of traffic flow, crime rate and the surrounding area.  Therefore, it is not currently Council policy to reduce lighting levels below that specified in the British Standard.
What is being done to stop light intrusion?
Lighting control in modern street lights is much improved compared to the equipment available twenty years ago.  Light is directed downwards to light the pavement and road as effectively as possible.  If you encounter a specific problem with light intrusion (e.g. light shining into a bedroom window), the Service Provider can be contacted in order to discuss your concerns.  In certain circumstances, it may be possible for a shield to be fitted to a lantern to minimise the amount of glare/light intrusion you are experiencing.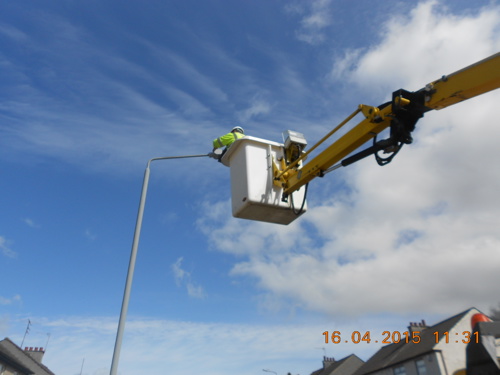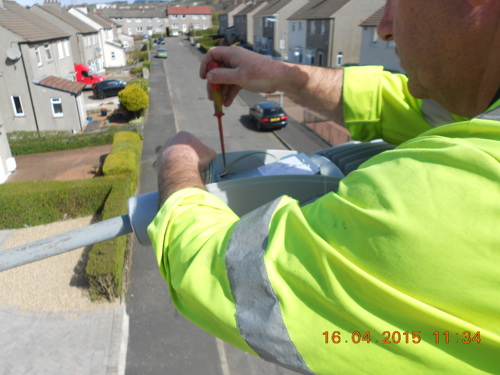 Street light improvements
Location
2015
2016
 
Mar
Apr
May
Jun
Jul
Aug
Sep
Oct
Nov
Dec
Jan
Feb
Mar
Residential Streets, Dumbarton
 
 
 
 
 
 
 
 
 
 
 
 
 
A814 Dumbarton - Clydebank

 

 
 
 
 
 
 
 
 
 
 
 
 
A82 Great Western Road

 

 
 
 
 
 
 
 
 
 
 
 
 
A811 Stirling Road

 

 
 
 
 
 
 
 
 
 
 
 
 
Residential Streets, Vale of Leven

 

 
 
 
 
 
 
 
 
 
 
 
 
Bonhill (Ladyton, O'Hare etc.)
 
 
 
 
 
 
 
 
 
 
 
 
 
Gartocharn

 

 
 
 
 
 
 
 
 
 
 
 
 
Old Kilpatrick, Milton and Bowling

 

 
 
 
 
 
 
 
 
 
 
 
 
Residential Street, Clydebank

 

 
 
 
 
 
 
 
 
 
 
 
 
Other Principal Roads, all areas

 

 
 
 
 
 
 
 
 
 
 
 
 
Individual column replacement

 

 
 
 
 
 
 
 
 
 
 
 
 
New columns and cabling