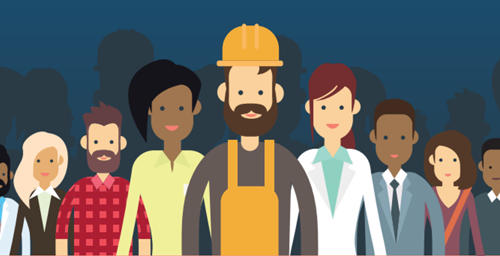 Both Scottish and Local Government are committed to the shared ambition of No One Left Behind, to deliver a Scottish approach to employability that focuses on the needs of the individual first and foremost. A person-centred approach that is more flexible and responsive to the changing labour market, tackles inequalities and grows Scotland's economy is needed now more than ever to shape a collective economic and wellbeing response.
The expectation of increasing levels of unemployment, underemployment and child poverty as a result of the pandemic has far reaching consequences. Tackling child poverty is one of several overarching priorities and fair, sustainable work is central to improving the lives of families. These factors, combined with a recognition that many of those further away from jobs will now face additional challenges in the labour market has introduced further impetus.
The employability response to COVID-19 must address the needs of individuals of all ages and circumstances, and needs to build on the well-established services managed by Scottish and Local Government and others across the Scottish employability landscape.
No One Left Behind Delivery Plan
The Scottish Government have allocated funding to West Dunbartonshire Council to support local residents who meet the relevant eligibility criteria included in the No One Left Behind Strategic funding streams:
No One Left Behind
Parental Employability Support Fund
Disabled Parental Employability Support
Parental Employability Support Fund Boost
Partnership Action for Continuing Employment Plus
Long Term Unemployed and
Young Persons Guarantee
Scotland's Approach to Service Design recognises that meeting the needs of people who face the barriers identified by each these funding streams can be done most effectively when public, private and third sector organisations work together in partnership.
The main aim of the Scottish Government No One Left Behind strategy is to support local residents to access services that support them to achieve their employment goals through a person centred approach.
West Dunbartonshire Council is keen to work with organisations that can deliver innovative employability services for local people that aim to support participants in their journey into sustained employment.  The Council aims are to work together, building on local insight and knowledge, aligning with long term strategic plans for local growth, targeting people most in need, investing in skills and supporting people on their employability journey.
No One Left Behind Privacy Statement



Projects must deliver activity that is line with Scottish and Local Government shared ambition of No One Left Behind.
West Dunbartonshire Council anticipates supporting a range of projects. 
As 100% of the funding available through No One Left Behind is revenue funding and only available in 2021/22, projects should be exclusively revenue based. Projects that focus on capital activity will not be supported.
In selecting the bids West Dunbartonshire Council will prioritise the bids that have the greatest potential to deliver against key local growth priorities that support local priorities.
Consideration should be given to specific client groups who, for many reasons, may face challenges in securing access to training and employment opportunities and development services.
Proposals around employability and training should be aware of the current operating environment in West Dunbartonshire and ensure that proposed activity is complementary and additional.
Proposals are sought that recognise the challenges and take into account the need for economic renewal required as a result of the COVID-19 pandemic.
Limited connectivity and digital skills have contributed to the challenges facing people seeking and staying in work. This is likely to remain a challenge as we approach COVID-19 recovery. As such we encourage applicants to consider how these challenges can be overcome within the context of the activity they are proposing.
Geographic Coverage
Projects should benefit the West Dunbartonshire Local Authority Area.
The West Dunbartonshire Employability Grant Programme aims to support: unemployed people to move towards and into work; and employed parents to improve their labour market situation. It is a new initiative which recognises that to help local people to develop the skills and confidence employers are looking for we all need to work together at a local level to provide the best possible services to those who need them most.
The national funding for employability is expected to change significantly in the next year with the Scottish Government (and possibly also the UK Government) choosing to distribute funding at a more local level and through a local strategic employability partnership. The Strategic Employability Group will decide on the local priorities and areas for action but will also ensure that local employability providers continue to have the opportunity to access funding for services through a co-commissioned process. The key Scottish Government policy framework for this approach is called No One Left Behind and this will guide the future direction and delivery of employability services in the years to come.
This guidance document, and the associated grant application form, outlines the West Dunbartonshire Strategic Employability Group intentions, principles and priorities to be met through the new West Dunbartonshire Employability Grant Programme supporting employability and skills provision in 2022 and 2023.
Submit an application
The closing date for applications is midnight 16th February 2022.  Bids must be submitted using the No One Left Behind Grant Application Form:
Bids must be submitted to West Dunbartonshire Council using this email address:
Bids submitted in any other format will not be accepted.
West Dunbartonshire Council No One Left Behind Grant Award is a competitive process and West Dunbartonshire Council will not enter into discussions with bidders.
We try to ensure that all the required information is provided in the grant guidance. However, below you will find some questions that have been asked that are not covered within the grant guidance document, with associated answers:
Question
Question
Answer
Is there a cap on £ award per organisation?
The cap will be based on the overall funding available. Please refer to the West Dunbartonshire Employability Grant Guidance document on the WDC No One Left Behind (NOLB) webpage for further information about available funding.
EF has now ended – therefore similar activity would be considered a 'continuation of' as opposed to 'duplication of' – would West Dunbartonshire Council agree with this ? 
It is our understanding the Employability Fund will end on 31st March 2022. Beyond this date it will therefore not be possible to duplicate Employability Fund activity. Please refer to the West Dunbartonshire Employability Grant Guidance document on the WDC No One Left Behind (NOLB) webpages for further information about the types of applications that are being sought for the West Dunbartonshire Grant Award Programme.
Can signatures be typed in on the application or do you require a hard signature then a scanned copy via email?

Please do not submit scanned copies of applications. Completed applications should be submitted as a word document attachment to an email. 

Please sign your application using a digital signature.

Section 4 Project Impact – Can you clarify if you are looking for an estimated figure for the status at 13, 26 and 52 weeks?
Applicants should provide projected targets for status at 13, 26 and 52 weeks.
Section 4 Project Impact – What evidence will be required over these periods? (13, 26 and 52 weeks)

Supporting evidence requirements will be in line with those that the Scottish Government have set out. 

Supporting evidence requirements will be relayed to successful applicants at the Inception Meeting and also on an ongoing, as needed basis, if required.

We currently deliver the Employability Fund and with 16-17 year olds, an allowance of £55 per week is provided as part of the funding. When pricing our project, are we able to put this into the overall cost to ensure we can pay this allowance as its an important feature of attracting and retaining young people to any programme?
As long as it's not the same young people that are signed up to your EF contract and it is a stand alone project, this could be included in your costs.
If we want to deliver two cohorts for the same programme but different dates in the year, for example a cohort of 15 starting on July 1st and then another cohort on September 1st, should we put one grant application in and provide two different start and end dates with the total number of participants and pricing related to two different group deliveries or should we just put in two separate applications for the same course but different start dates? 
Two cohorts of the same programme can be included in the one application as long as the overall programme meets the grant delivery start/end date timescales within the grant guidance.

The West Dunbartonshire Council Employability Grant Programme Round 1 documentation states that only direct delivery (revenue) costs will be considered as eligible grant expenditure, and that a maximum of 10% of total staff costs can be included in the cost breakdown for management and administration costs. Tenderers have central cost and overheads for example HR, IT and Finance functions that will contribute to the success of the contract and require to be covered and we would expect to be able to claim a reasonable proportion of these costs against this contract. Additionally, to ensure financial stability we would expect a level of profit. What is the mechanism for achieving these?

Direct delivery (revenue costs) are eligible costs as is a maximum 10% of total staff costs for management and administration costs.  The term 'management and administration costs' can include HR, IT and Finance and is therefore the mechanism through which these costs can be funded.