Work to develop former St Eunan's Primary School site in Clydebank is well underway. Once completed, the site will be transformed into an attractive and exciting new community park which will provide local residents with multi opportunities for learning about nature and physical activity. The works are scheduled to be completed in March 2020 and the park will be open to public shortly thereafter. 
Melfort Park 
A name has been chosen for this new community park , which will now be known as Melfort Park. The new name which ties in with the Melfort Avenue access road was approved at a meeting of West Dunbartonshire Council's Planning Committee in January. It followed extensive community consultation and a request for suggested names that referenced the areas history and heritage. 
What is proposed? 
The project will deliver new biodiversity areas, raised bed allotments, recreational areas for children, outdoor exercise equipment, outdoor education areas and will also represent Clydebank's heritage. In addition open pathways will be created through the site, providing accessible connections for pedestrians and cyclists between the town centre to the south and residential areas to the north of the site. This new Community Green Space will improve opportunities for contact with nature and for physical activity for local children and adults. Having good quality green infrastructure near where we live and work will improve our physical and mental health and well-being. The approved layout is available for download below. 
Artist's Impression below: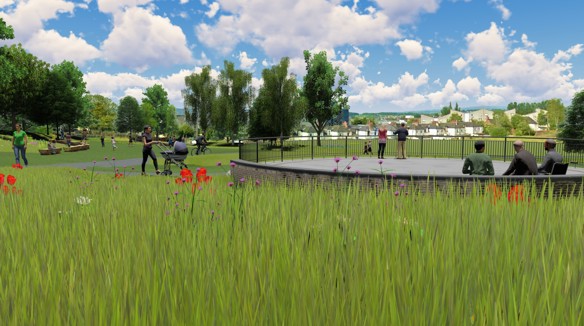 Project funding
The project was awarded £448,000 as part of a major new £37.5 million Scottish programme of projects to improve the urban environment of Scotland's larger towns and cities. 
The Green Infrastructure Strategic Invention, led by Scottish Nature Heritage (SNH), is part-funded through the European Regional Development Fund (ERDF). West Dunbartonshire Council had already approved funding of £900,000 for the project and is now working together with SNH to develop and deliver this new community park. 
With 81% of Scotland's population living in urban areas, the Green Infrastructure Strategic Intervention will make the country's larger towns and cities more attractive nd environmentally sustainable places to live, work and invest in. It is a Scotland-wide initiative with many partners, including local authorities and housing associations. 
If you have any questions please email: regeneration@west-dunbarton.gov.uk.