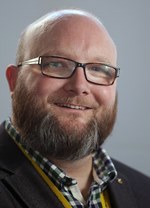 Party: Scottish National Party (SNP)
Ward: Ward 1 - Lomond
Positions:
Leader of the Council



Convener/Vice Convener HSCP Board/Audit Committee
Spokesperson for Community Empowerment
Allowances and Interests:  Register of Allowances
Surgery details:
Commencing October 2021
Last Saturday - Balloch Library – 10am – 11am  (no surgery in December 2021)
Cllr McColl will also hold surgeries on request.  Please call the office on 01389 737620 to make a mutually suitable appointment.  Councillor McColl can arrange to meet you at your home, place of work or any Council premises, whichever you prefer.
Contact information:
Home visits and office appointments:
Please email Members' Services: memberssecs@west-dunbarton.gov.uk
Contacted at the Municipal Buildings, College Street, Dumbarton:
Tel: 01389 737511
Mobile: 07769 367 035
email: jonathan.mccoll@west-dunbarton.gov.uk
Other Councillors representing this ward: