Published 13 August 2023
Crowds gathered in West Dunbartonshire this weekend to support world-class cyclists as they competed in the 2023 UCI Cycling World Championships.
Balloch was host to two events – the Men's U23 Elite Road Race on Saturday and the Women's Elite Road Race on Sunday – attracting spectators from all over the world to the area.
The events were also broadcast to millions of viewers from all across the globe, putting West Dunbartonshire on a world stage.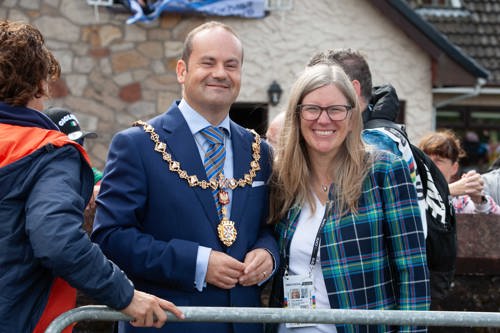 Provost Douglas McAllister joined Trudy Lindblade, Chief Executive Officer for the World Championships and President of UCI David Lappertient at the start line to wave cyclists off on a route that moved from Balloch towards Gartocharn, before travelling through Stirlingshire and East Dunbartonshire then into Glasgow.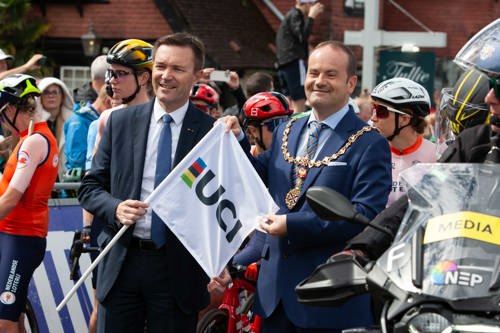 Provost McAllister said: "It has been so exciting for our area to be part of this event – the first of its size and type in the world.
"We already know how beautiful our corner of the world is, but this event has given us an opportunity to showcase it to millions of people worldwide.
"Watching these elite athletes, who will have trained for years for this moment, is extremely inspirational and I'm sure many of our residents will be getting back on their bikes as a result.
"We're lucky in West Dunbartonshire that we have many fantastic cycling routes, and I would encourage everyone to get out and enjoy them."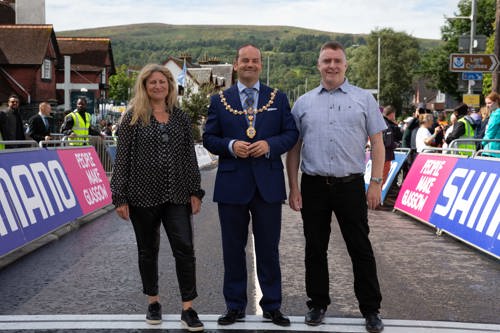 For more information about the events and winners, visit: 2023 UCI Cycling World Championships
To find out more about cycling routes around West Dunbartonshire.