There are two cycle paths in West Dunbartonshire that offer spectacular views of the River Clyde and Loch Lomond.
The NCN7 Cycle Path leaves Glasgow following the River Clyde and runs through West Dunbartonshire via Dumbarton to Balloch and then on to Drymen. The route then heads to Inverness via Aberfoyle, Callander, Killin, Pitlochry, Kingussie, Aviemore and Carrbridge. Highlights include the Glen Ogle viaduct on the railway path between Lochearnhead and Killin. The route is managed by Sustrans with assistance from West Dunbartonshire Council.
National Cycle Network Route 7 in West Dunbartonshire transformed by traffic-free Bowline project
The West Loch Lomond Cycle Path is a 17 mile cycleway and footpath that runs from Balloch at the southern tip of Loch Lomond to Tarbet. The path is traffic-free for most of the way, with only two short stretches on minor roads. It's suitable for cyclists, walkers, wheelchair users and horse riders. The path begins and ends near railway stations, so you can travel the whole route and return by train or travel just part of the route and return the way you came.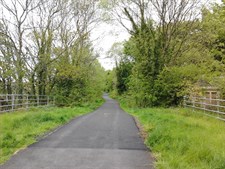 It is managed by the Loch Lomond and Trossachs National Park Authority. 
When using these routes please be aware that they're used by walkers, cyclists and horse riders, with some sections also accessible to authorised motorised vehicles.
Mountain biking
There are great opportunities for mountain biking in the Kilpatrick Hills and National Park. You can also use our two cycle paths.
The Kilpatrick Hills provide many opportunities for mountain biking using the West Dunbartonshire Core Paths Network.
Guides and Codes to follow: