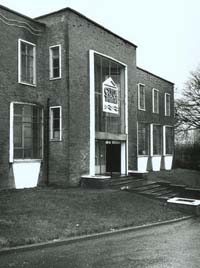 In March 1980, shortly before the closure of the Singer Factory, the former Singer Recreation Hall in Boquhanran Road was gifted to Clydebank. Clydebank District Council made the hall the headquarters for its Youth Opportunities Programme until 1989, when (with financial assistance from the Scottish Foundation) it was converted into an 800-seater community theatre and re-named Clyde Theatre. The theatre became the base for Wildcat Stage Productions. The first production shown in the theatre was The Greedy Giant, starring the writer and performer Dave Anderson.
Rising costs forced the theatre to close in 1992. It lay derelict for a few years before it was demolished in 1995 and the site cleared for new housing.
Pictured, the main entrance to the Clyde Theatre in Boquhanran Road, 1992.