J. & G. Thomson
The birth of a "new town" began in 1871, when the Thomson Brothers relocated their Clyde Bank shipyard from Govan to a new green field site at Barns o' Clyde. The location, diagonally opposite the mouth of the river Cart, was to prove provident in later years when some of the world's largest ships were launched.
Two of their most impressive liners were Servia for Cunard and City of New York.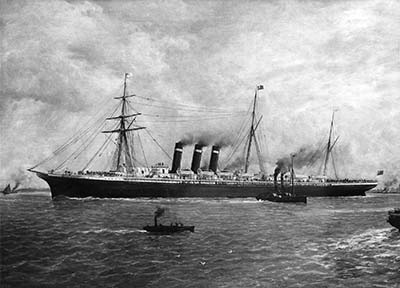 'City of New York'
The company also won highly profitable contracts from the Royal Navy and overseas governments. The building of warships became an important part of their output. In the 1880s, the Engine Works at Finnieston were transferred to Clydebank. When Thomson's became known as The Clydebank Engineering and Shipbuilding Company.
Clydebank's First Provost
In 1886, the Burgh of Clydebank was formed, taking its name from the Thomson shipyard.
Clydebank Terrace, the tenements built for the workers beside the shipyard gate, were known as 'Tamson's Toon'. James Rodger Thomson was elected as the first Provost of the new burgh.
Despite building many prestigious ships however, the works were troubled financially. In 1899 were taken over by the Sheffield steel making firm of John Brown & Co Ltd who were eager to extend their business into shipbuilding.
The yard became known as John Brown & Co Ltd, Clydebank Shipbuilding & Engineering Works.