There were many ferry services operating on the River Clyde before the 1870s. A ferry linking Brickhouse in Dalmuir with the south bank of the river was withdrawn in 1870, and Bankies had to make do with services beyond the burgh boundaries. The Clyde Navigation Trust acquired the Erskine Ferry in 1911 and added a vehicle ferry boat to the old passenger service to Old Kilpatrick. It was withdrawn with the opening of the Erskine Bridge in July 1971. The Renfrew Ferry, which has linked Yoker with the south bank of the river for more than 500 years, carries 200,000 passengers each year at the beginning of the 21st century.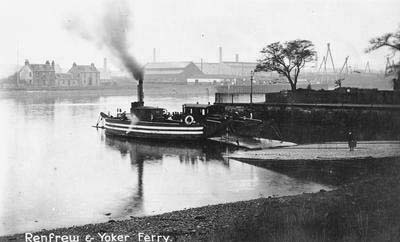 Renfrew Ferry about 1900
Up to six steamers sailed daily to and from Glasgow's Broomielaw to Dumbarton during the 19th century, but they were not provided with a landing stage at Clydebank. Over the years several attempts were made to have a pier built, but these were stymied by the Clyde Navigation Trust - the waterfront was too valuable as an asset for industry
Materials were carried by river to build J & G Thomson's shipyard and when Rothesay Dock opened in 1907 minerals were unloaded there. The development plans of Clydebank rebuilt, 2003-2010 should open up the riverside to people and to boats.